 Conservative Party Chairman honoured with Association of Colleges' Gold Award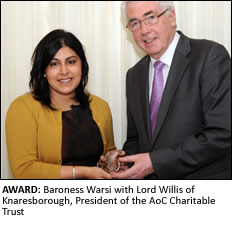 CHAIRMAN of the Conservative Party, Baroness Sayeeda Warsi, has won an Association of Colleges' Gold Award.
She was nominated by Kirklees College for her outstanding achievements as a lawyer and a politician.
Baroness Warsi studied A-levels at Dewsbury College, now Kirklees College, Yorkshire, from 1987 to 1989. She was presented with her award by Lord Willis of Knaresborough, President of the AoC Charitable Trust, at a ceremony at the House of Commons.
The AoC Charitable Trust presents the Gold Awards to a select number of former college students each year in recognition of the vital role further education plays in the careers of the winners and of their continuing achievements.
Previous recipients of the award have included Oscar winner Colin Firth and shoe designer Jimmy Choo.
Speaking about the award Baroness Warsi said: "It is a real honour to be presented with the Association of Colleges' Gold Award. I hope that Kirklees College continues to inspire generations of talented young people, whose skills are the life blood of our country.
"Award schemes like this make it clear to today's young people that they too can make it if they study hard; that people just like them have done it. I was the daughter of an immigrant mill worker. At college I studied economics, I hated maths but economics taught me what I needed to know about business and helped me go on to set up two businesses."
The Association of Colleges' Chief Executive, Martin Doel, said: "The AoC Gold Awards highlight the way in which colleges can significantly enhance the lives of their students by providing them with the skills they need for their future success. The superb work done by both students and their colleges across a variety of sectors prove that, no matter what your aspirations, further education can make a major contribution towards achieving a rewarding, fulfilling career.
"I'd like to extend my congratulations to Baroness Warsi, who is a shining example of just how far students can go when their talent and ambition is both recognised and nurtured."