 Language conference to be held in Birmingham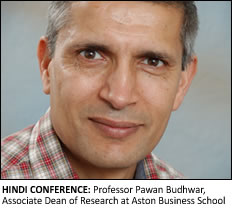 AN historic world-class language conference is to take place at Aston University later this month.
The three-day symposium, believed to be the first of its kind in the UK, will focus on Hindi, India's most common language.
The UK Regional Hindi Conference, which will take place between 24 and 26 June, is being supported by the Aston India Foundation for Applied Research (AIFAR), a group founded and led by Professor Pawan Budhwar, Associate Dean of Research at Aston Business School.
 It has been organised by Gitanjali Multilingual Literary Circle (GMLC) in association with Aston University, as well as other UK and European organisations.
This event will focus on the status and position of Hindi in the world. Within the overall theme, it will consider the contributions of non-resident Indians (NRIs) the media, educational institutions and cultural organisations to the Hindi language.
Professor Julia King, Aston University Vice-Chancellor, who will welcome delegates to this prestigious event, said: "It is our great privilege to host this conference at Aston University, which lies in the heart of multicultural Birmingham. In addition, this conference will add further value to Crossing Boundaries, our chosen theme for this year which we have dedicated to celebrating all strands of diversity within Aston's staff and student community."
Professor Budhwar, whose ancestral roots lie in India and for whom Hindi is his mother-tongue, said: "We are absolutely delighted, proud too, to be supporting this remarkable event which aims to bring together individuals of all ages, from all walks of life, irrespective of faith, culture or religious following, or any other differences, who have a connection with Hindi."
 The United Kingdom has a population of 61.9 million, of which three per cent are citizens of Indian origin. There are more than half a million people from an Asian background living within a one-hour drive of Birmingham Airport, of whom 350,000 are of Indian origin. 
 Dr Krishna Kumar, founder and chairman of GMLC in Birmingham, said: "Birmingham is home to so many people of Indian origin and what better place to hold this event than Aston University which attracts a large number of Hindi-speaking students from all over the world."