 Jaswinder Singh jailed for life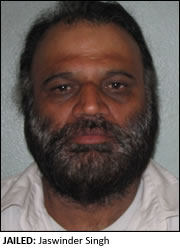 A MURDERER who beat a homeless man to death and tried to kill two others has been convicted at the Old Bailey.
Jaswinder Singh, 43, was found guilty of murdering Harbharjan Singh, 31, and the attempted murder of two other men, aged 58 and 42.
He was sentenced to life imprisonment with a minimum tariff of 24 years plus 16 years to run concurrently for each of the attempted murders.
The Old Bailey heard Jaswinder attacked two men close to Buckingham Road Cemetery on 9 September 2010. Following a search of the area, officers discovered the body of a third man, Harbharjan Singh, who was pronounced dead at the scene.
Singh's first two victims were taken to hospital with life-threatening injuries. One of the men suffered fractures to both shoulders, his collar-bone, the left side of his head and the right side of his face plus numerous cuts, while the other man sustained multiple jaw fractures and a fractured left cheekbone.
The victim, Harbharjan Singh, died from blunt trauma to the head and neck.
Police believe Singh used a piece of wood or an iron bar to attack the men.
The court heard there was a history of animosity between Singh and the victims.

The defendant believed the victims were responsible for a previous assault on him a few days before the murder.
Blood from the deceased was found on the defendant's hat. A witness also

spotted him on the evening of the attacks with an iron bar and blood splattered over his clothing.

Speaking after the verdict DCI John Macdonald, from the Homicide and Serious Crime Command, said: "I'd like to say a big thank you to all the witnesses who attended court. This wasn't a straightforward case and we needed them to give evidence. They did a great job and I'm sure Harbharjan's family would like me to pass on their gratitude to them."