 Asian families told to better safeguard valuables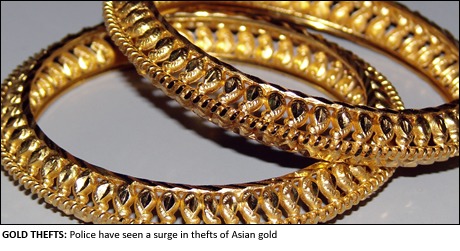 ASIAN families in Nottingham are being advised to safeguard their valuables following a number of burglaries in which jewellery was stolen.
Police are investigating a series of break-ins at homes in the city where valuable gold Asian jewellery has been taken. There have been 18 reports of incidents like this since January 2011.
The majority of the burglaries have happened in daylight hours and police believe offenders have broken into homes and searched specifically for high value items of jewellery.
Detectives are linking the offences and are following a number of lines of enquiry to apprehend the offenders.
Meanwhile, police are warning families to keep their valuable jewellery safe.
They are urging families to keep valuables in a locked safe and register valuable items of jewellery.
Insp Gurmit Kaur, Neighbourhood Policing Inspector for Basford and Hyson Green, said: "We think these offenders have some knowledge of where families are most likely to hide their high value items and they are breaking into homes specifically to find them.
"Gold is extremely valuable at the moment and we would advise people to secure any especially high value items in a bank, rather than keeping it at home.
"We have stepped up patrols to try to deter offenders from committing these offences and are following a number of lines of enquiry as part of the investigation.
"Being burgled is a very distressing experience and to have items taken that have enormous sentimental value to you only makes it worse.
"While we focus on catching the people responsible for these crimes, we are asking families to help us by making sure they keep their valuables safe and follow our advice to lower the chances of their home being targeted."
Anyone with information about the burglaries or who has been asked to buy high value items of Asian jewellery should contact Det Sgt Rob Wells at Radford Road Police Station on 0300 300 9999, ext. 802 4613.
Alternatively, call Crimestoppers anonymously on 0800 555 111.