 City chef storms into finals of Great British Menu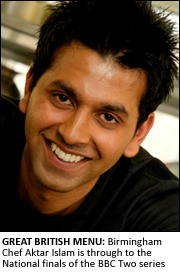 THE Birmingham curry is leading the way to be part of the Great British Menu – thanks to Chef Aktar Islam.
The talented chef from Birmingham was named regional winner for the Midlands in the BBC Two series Great British Menu.
He will return to the kitchen at the end of the month as he battles winners from other regional heats to win the chance to cook for the ultimate street party – The People's Banquet in June.
Aktar, who is head chef at Birmingham's award-winning Lasan restaurant, was challenged to create awe inspiring food that can be shared at The People's Banquet.
And he didn't disappoint, storming into the national finals after he wowed judges with his selection of Tiffin of South Asian inspired street food for his starter, a beautifully presented sea bass stuffed with sautéed spinach dish for his fish course, slow roasted shoulder of Cornish lamb for his main course and a dessert consisting of Mitai, Indian influenced puddings and Strawberry somosa.
Aktar said he was "ecstatic with the win" and is looking forward to the challenge that lies ahead.
Birmingham will be backing Aktar all the way when the Great British Menu national finals hit our TV screens from Monday 30th May at 6:30pm on BBC TWO Daytime.