 Melody Hossaini to feature on new series of hit BBC show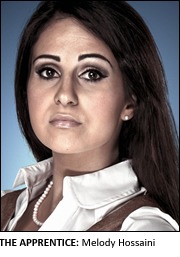 A WALSALL businesswoman is hoping to be crowned Lord Alan Sugar's next Apprentice!
Melody Hossaini will take her place in the seventh series of the popular BBC show set to hit our screens on 10 May.
And in a new twist this year the winner doesn't land a six-figure salary job with Lord Sugar – but is given the opportunity to launch a business partnership with him as well as a cool £250,000 investment.
It's an opportunity Melody is eager to land. Born in Iran, the 26-year-old is founder and Director of Global Youth Consultancy Business.
She speaks five languages, set up a renowned UK youth organisation at the age of 13 and has won the Woman of the Future award for her voluntary work. She has previously worked with 12 Nobel Peace Prize winners including Desmond Tutu, Dalai Lama, Sherin Ebadi and was trained on climate change by Al Gore.
The Independent Newspaper has already tipped Melody as 'The One to Watch.'
But what does she think of her chances?
"Don't tell me the sky's the limit when there are footprints on the moon," she says!