 Boxer urges Brits to dig deep for flood-stricken Pakistan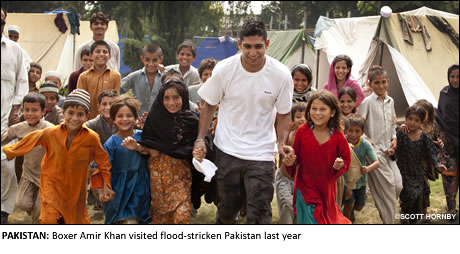 CHAMPION boxer Amir Khan is urging us not to forget about the desperate plight of families still struggling six months after the Pakistan floods.
The Bolton star joined forces with aid agency Oxfam to make an impassioned plea for the thousands of people still caught up in the floods.
Nearly 1.9 million have been affected by the disaster, but Oxfam says that number is dwarfed by the number of people who are in need of desperate help.
Swathes of land remain underwater, food prices are sky-rocketing and malnutrition is a serious concern in the south of the country.  Across the nation, some one million people are facing Pakistan's harsh winter without adequate shelter. 
Khan visited the areas hit by the floods in Pakistan with Oxfam six months ago. Since then, he has relentlessly fundraised to help the people he met – with the same determination he shows in the ring.
And while he appeals for Brits to help, he's most definitely doing his bit.
A charity event organised by Oxfam and Khan saw generous fans raise a phenomenal £101,000
The money will be used to re-build schools in the Shahdad Kot area of Sindh in the south of Pakistan.
Amongst the items that were snapped up by deep-pocketed guests included a signed Lewis Hamilton cap (£600), a signed shirt by Manchester United star Luis Nani (£2,000), a signed Amir Khan glove (£11,000) and a signed and framed Manny Pacquiao glove (£35,000).
Speaking at the fundraiser Khan said it was vital we continue helping those in need.
"What I saw when I went to Pakistan with Oxfam is hard to describe," Khan said. "You have to see it with your own eyes. We are so lucky in the UK. We have everything we need on our doorstep. People there have been left with nothing."
During his trip to Pakistan with Oxfam Khan joined in with Oxfam aid workers helping to distribute food and hygiene kits to those in need.
"After the first immediate response six months ago, I wanted to do more," he added.
"In Pakistan I met so many children. I asked them what they missed the most. They said they all missed their schools. So I decided that the next step was rebuilding schools in Pakistan with Oxfam. We want to raise money to build, staff and equip the first school. Seven more need rebuilding though. We must not forget Pakistan and carry on helping."