 Supriya Davda chats to Prateik Babbar about working with Aamir Khan & Kiran Rao
PRATEIK Babbar – son of Hindi film actors the late Smita Patil and Raj Babbar – will aim to make his Bollywood breakthrough later this month in Kiran Rao's directorial debut Dhobi Ghat.
A versatile artist, Prateik trained as a professional cricketer after his schooling. He soon gravitated towards film and began his career working in television commercials. Before long Prateik was cast in a cameo in Aamir Khan Productions' Jaane Tu Ya Jaane Na. Kiran Rao's Dhobi Ghat will be Prateik's debut in a leading role.
Bollywood Reporter Supriya Davda speaks to debutant actor Prateik Babbar about Kiran Rao's maiden directorial venture Dhobi Ghat.
Prateik tell us how you landed up with the role of Munna in Dhobi Ghat?
I happened to do Jaane Tu….by chance, at the time I was just testing the waters, before taking a final leap. I wanted to see how it would go, and then decide a final course of action. At the cast and crew screening of Jaane Tu, I was still unsure. At the screening Kiran Rao kept staring at me and I was wondering why. Was it because my performance was that bad? I couldn't figure it out and even when she took me aside and started telling me about her next film, I had no clue that she wanted to cast me in it. But then she called me over, and asked me to give an audition. I thank destiny for both Jaane Tu and Dhobi Ghat.
How did you relate to the character of Munna?
Munna is young, ambitious, hardworking, good-hearted, most definitely a dreamer and of course easy on the eyes! A lot like me (he winks). No, seriously, after playing Munna for a while I realised how close his character is to my own in many essential ways. It became an easy fit and Kiran helped to bring it out.
Why should people go and see Dhobi Ghat?
It's a touching 'slice of life'; it's a story but presented differently. It's an ode to Mumbai, our city. It's the 'Art House' cinema coming from the midst of Bollywood. It shows that Indian Bollywood films can be beautiful without songs and dance too. And apart from Aamir Khan, we are all first timers, including our director, Kiran Rao.
Talking of Aamir Khan what was it like working with him this time as an actor rather than producer?
The first thing that comes to mind is that Aamir bhai is the most generous and giving actor. He has been nurturing towards me and all of us newcomers. Giving us room and support to grow. This has left me hungry – I wanted more scenes with him and I hope I get opportunities to work with him in the future. Also, he has been an amazing mentor and guide because he leads by example.
What is Kiran Rao like as a director?
Confident, caring, creative, charismatic. She has a vision she is unafraid to pursue. Kiran is able to bring out the best in her actors on and off the sets. Perfect to work with. I love her.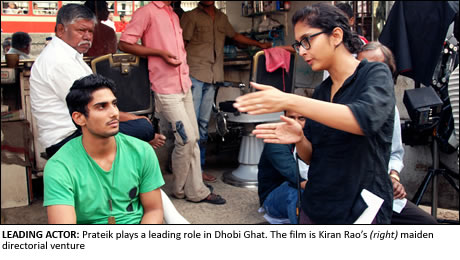 The film has received great reviews from the Toronto Film Festival as well as London Film Festival how does this feel?
Apart from a tremendous sense of satisfaction, it was overwhelming but now scary. Toronto still feels like a dream. The scare now is how will Bollywood audiences react to a delicate film like Dhobi Ghat? Will I fail the public expectations? Especially when I don't know what they are!
Your work was highly appreciated in Jaane Tu Ya Jaana Na, did you receive many film offers thereafter?
Yes many. But like I said, Janne Tu was testing the waters for me; I didn't know whether films were for me.
Despite being highly talented and coming from a film back ground you seem to be keeping a distance? Are you only signing particular projects?
I get excited and feel very hungry do all the films that come my way. But obviously I can't do all. (He sighs) For me the script is the most important thing. I love a script that can excite me. New journey, newer avenues.
We'll see you again on screen in Rohan Sippy's Dum Maro Dum. Apart from this what else have got next lined up?
Sanjay Leela Bhansali Productions 'My Friend Pinto' with a debutante director Raghav Dhar and Prakash Jha's Aarakshan with Deepika Padukone.
Speaking of an exciting script and newer avenue's, what would be your ideal role then?
Hmmmm…Ideal role would be able to play all "sur", all characters of the rainbow. I am very hungry as an actor. The word ideal is actually very limiting, and I don't think I would be satisfied with one ideal role.
Dhobi Ghat releases on 21st January