 One year on, Police continue hunt for killers of have-a-go hero Sukhwinder Singh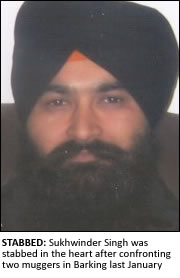 COPS hunting the killers of a Barking father have launched a fresh appeal a year after his murder.
Sukhwinder Singh, 31, was fatally stabbed as he tackled two muggers moments after they snatched a woman's handbag near Barking station on Friday 8 January.
Detectives are offering a £20,000 reward for information leading to the arrest and conviction of those responsible.
Inquiries by officers continue but the investigation team said they were using the anniversary of Mr Singh's death as an opportunity to encourage people to come forward with fresh information about the incident.
Detective Chief Inspector Steve Clayman, who is leading the investigation, believes that there are people in the community who may hold vital information but for various reasons do not feel able to come forward.
He said: "I appreciate that some people are not comfortable speaking to the police but I would ask them to put aside any pre-conceptions they may have and trust the police to deal with their information responsibly.
"Those holding information must understand that catching the killers is their business and not someone else's."
Mr Singh, a father-of-one, was stabbed in the heart moments after he chased two men who had robbed a woman of her handbag on Loxford Road.
One suspect was described as black, 5ft 10in-6ft tall, skinny with a young face and wearing a black hooded top and light grey jogging bottoms. The second was thought to be a lighter-skinned black man, 6ft tall, of stocky build with possible facial markings or facial hair. He was wearing a light blue hooded top with markings on the sleeves.
While police are keen to trace the two men, investigations have indicated there may have been more than two suspects involved in Mr Singh's murder.
Detectives are also appealing for information about the handbag stolen just moments before Mr Singh's murder.
The brown leather bag also contained a silver Samsung E250 mobile phone.
Neither the handbag nor the mobile has been recovered, but officers believe they might have been discarded in a garage area near Charlton Crescent in Barking, just over a mile from the murder scene.
DCI Clayman added: "In relation to the outstanding property, did you see the handbag or mobile 'phone in the garage area off Charlton Crescent? Were you ever offered a silver Samsung slide phone?
"If you have any information at all, however insignificant you think it might be, please contact us."
Anyone who can assist should call the incident room on 020 8345 3775 or to remain anonymous, Crimestoppers on 0800 555 111.