 Birmingham drama teacher is finalist of O2 Indian Soap Star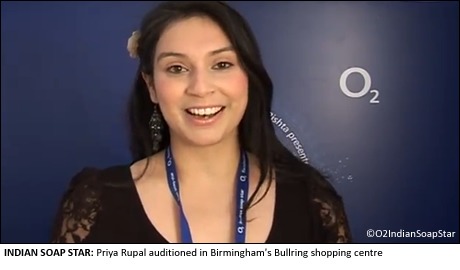 A BIRMINGHAM drama teacher could be on her way to Mumbai after she was selected out of thousands as a finalist in the search for an Indian soap star.
Priya Rupal, a 23-year-old drama teacher from Sutton Coldfield in Birmingham beat thousands of aspiring actors to take one of three places in the national final of O2 Indian Soap Star.
The nationwide competition, which offers one lucky person the chance of a walk on role in ZEE TV's hit Indian soap, Pavrita Rishta, has been touring the country with thousands auditioning for the role.
Priya, who auditioned at the Bullring, will now go head to head with winners from the other regions in a bid to land the coveted prize.
And if Priya does triumph in the final, she has one person to thank – her dad!
Speaking to The Asian Today, the 23-year-old said: "My father told me about the auditions after he saw the advert on Zee TV. He loves Bollywood and Indian soaps and has always told me to try and get into Bollywood!"
Priya spent two weeks rehearsing a script with help from dad.
"I took it very seriously and my goal was to learn the script off by heart," she says.
"I rehearsed with my dad and tried to understand what emotions the character was feeling at the time. I think if you want to be an actor or actress you should take auditions seriously, and you need to be professional and I think I did exactly this. I have done myself and my family very proud."
When Priya was told she made the final she shared the news over the phone with mum and dad who were in India. She described their reaction as "ecstatic".
While Priya waits nervously for that all important call from O2, one thing she is sure of is her love of acting.
"I love acting and I take it seriously," she says. "When I was 18 I decided to do a degree in acting; my parents have always been very supportive and have always wanted me to follow my dream.

"I would love the opportunity to star in Pavrita Rishta. I have a lot to give and I think if I had the chance I would definitely do myself very proud!"