 Six year jail sentence for Mohammed Liton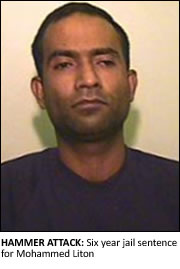 A MAN who attacked his ex-wife with a hammer as her horrified children watched on has been jailed.
Mohammed Liton, from Stoke on Trent, broke into his ex-wife's home and attacked her with a claw hammer.
His victim was saved from serious injuries by her neighbours who, after hearing her screams, restrained Liton before police arrived.
Liton, 30, was jailed for six years at Liverpool Crown Court. Once released, he will be on an extended licence for two years.

The court was told Liton lay in wait for his ex-wife after breaking into her Wythenshawe home. When she returned home with her children the 30-year-old was grabbed by the hair and hit on the head with a claw hammer.
After telling his victim he was going to kill her, Liton held a knife to her throat before he was restrained by two women and a man who had rushed to the house after hearing screams.
Detective Constable Craig Barry, based at South Manchester CID, said: "This was a horrible and ferocious attack that Liton put his former partner through and he is now where he belongs.

"The actions of those nearby prove that community spirit is very much still alive.

"These people went to support their neighbour in her time of need and didn't give a thought for their own safety. Their bravery is admirable.

"His victim should now start to put this terrible experience behind her with the knowledge that she has the support of good neighbours and that Greater Manchester Police will do everything it can to put the perpetrators of domestic violence behind bars."

South Manchester CID has put the woman's neighbours forward for a Divisional Commander's Award for their actions.