 Comedy duo Matt Lucas and David Walliams introduce Asian character to new show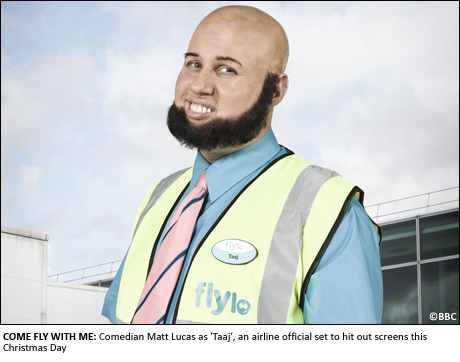 COMEDY duo Matt Lucas and David Walliams are no strangers to dressing up and their new show is no different!
The new series 'Come Fly With Me' – a mock documentary about life in a busy airport – is set to hit our BBC screens on Christmas Day, and with the duo portraying a number of characters, there's one that is sure to stand out – Asian airline official Taaj!
It is the first time either actor has chosen to portray an Asian character.
Played by Lucas, 'Taaj' is described as one of airliner FlyLo's roving ground staff. But despite the some what steady job "his ambitions lie elsewhere."
While some may hint at Lucas' controversial move to 'tan up' for the character, the comedian himself doesn't see it as a problem.
"We play young-old, black-white, fat-thin, straight-gay," Lucas said in a recent interview with the Telegraph.
"We don't want to limit ourselves and Britain is multicultural. But we're not making any political points."
'Come Fly With Me', BBC One, Christmas Day