 Lebara Mobile to match proceeds from 'Jeevay Pakistan'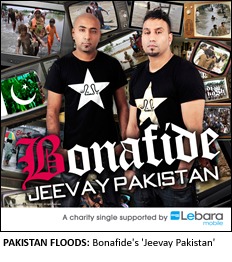 ASIAN music duo Bonafide have released a charity single in aid of the victims of the Pakistan floods.
Money raised from the single 'Jeevay Pakistan' will help the people of Pakistan rebuild their lives following the devastating floods earlier this year, the group said.
All proceeds of the single will be donated via the Lebara Foundation, to the International Federation of Red Cross and Red Crescent Societies (IFRC), who are working actively on the ground with the Pakistan Red Crescent in the most devastated regions of the country.
In a further boost Lebara, leading provider of international mobile services, has promised to match all proceeds from the single, euro for euro, up to the value of €100,000, for the people of Pakistan.
Bonafide duo, Maz and Ziggy, have been actively raising funds for the Pakistan flood victims over the past months.
Their first effort to bring awareness to the issue was a charity car wash held in their hometown of Rochdale, which helped raise over £5,000.
Since then they have been attending a host of fundraising events and donating their performance fees to ensure that the message goes right to the heart of every community.
Having already raised approximately £15,000 through their community work, Ziggy took the money to Pakistan and spent three days in Muzafgar, one of the worst hit areas as a result of the floods.
The official video for the song will include footage of Ziggy's trip to Pakistan, as well as a host of cameo appearances from a number of celebrities, including Pakistani cricketers Umar Gul, Saeed Ajmal and Azhar Mahmood and England cricketers Sajid Mahmood and Adil Rashid.
CEO of Lebara, Ratheesan Yoganathan said: "Nobody could fail to be moved by the desperate images of the floods in Pakistan.  While the initial disaster has passed, there is still a lot of rebuilding to be done. When we heard Bonafide's charity single, we felt it was a truly uplifting track that gives a message of hope at such a tragic time. We're pleased to be supporting this initiative to help the people of Pakistan rebuild their homes and their communities.  It takes one click to buy the single and Lebara will match that purchase."
'Jeevay Pakistan' is now available on iTunes for 79 pence. It will also be available on the Lebara Music Portal (
http://Uk.lebara.mobi
) for all Lebara customers.