 Ex-husband, and two others, jailed for life for gruesome machete murder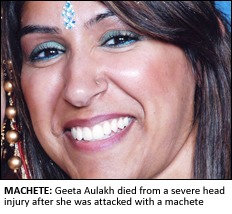 THE ex-husband of a radio station receptionist brutally murdered in a machete attack has been described as "evil and inhumane" by her devastating family.
Harpreet Singh Aulakh was today found guilty and jailed for life with a minimum tariff of 28 years for the murder of his estranged wife, Geeta who was attacked with a machete in Greenford in November 2009.
Two other men – Sher Singh, 19, of Wren Avenue, Southall, and Jaswant Singh Dhillon, 30, of High Road, Ilford were also jailed for life.
Both men were told they would serve a minimum of 22 years in jail.
A re-trial was ordered for a fourth man, Harpreet Singh, 20, after the jury were unable to reach a decision on his involvement in the murder.
Speaking after the trial, Geeta's family said they had been left "mentally scarred" by her murder.
The Sunrise Radio receptionist has been on her way to collect her two young sons from a babysitter when she was brutally attacked,
"We are just content in knowing that justice has somewhat prevailed and Geeta can finally rest in peace," her family said in a statement.
"Geeta was a beautiful, vibrant and kind-hearted woman who left a lasting impression on all those that met her. At 28 years old she had everything to live for and was the perfect role model for any young mother.
"Geeta is missed as a daughter, sister and friend but most importantly as a mother to two young boys.

"Since Geeta's death, we have all been mentally scarred and feel life has come to a standstill, we cannot come to terms with the vicious way in which her life was taken.
"As a family we have gone through all of the emotions but we are mostly angry and disgusted there are such evil and inhumane people in the world who thought they had the right to take her life."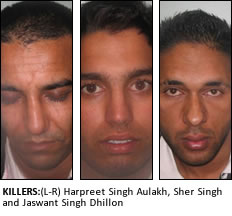 The Old Bailey heard Geeta had suffered a head injury and her right hand had been severed as she tried to defend herself during the attack on 16 November 2009 in Braund Avenue, at the junction of Verulam Road, in Greenford.
She was rushed to Charing Cross Hospital and despite efforts to save her she was pronounced dead.
A post-mortem gave cause of death as severe head injury.
Prior to the assault, witnesses described seeing two Asian men hanging around in the vicinity and at times they appeared to be pacing up and down the street.
When officers spoke to her family they revealed she had recently started divorce proceedings against her husband, Harpreet Singh Aulakh.
Geeta had also confided in work colleagues that she was being harassed by her husband, although she did not wish to make any formal complaint to police.
Officers immediately arrested her estranged husband Harpreet Aulakh.
During an interview he to be in love with his wife and had been hopeful that they were about to get back together, he also provided an alibi saying  he was in The Old Elm Tree pub in Hounslow at the time of the murder and could be seen on the CCTV.
Later, on the same day, Jaswant Singh Dhillon walked into Southall police station and claimed to have information regarding Geeta's death, giving detectives the name of Sher Singh as being involved.
He also told the officers where the murder weapon and the clothes worn by the killer could be found.
A jacket and a machete were subsequently recovered from the Grand Union Canal in Slough. A pair of trainers was retrieved from the side of the M4 near the junction to the M25.
Jaswant Dhillon told detectives that on the day of Geeta's murder he was collected by an associate, Sher Singh, who he knew through other friends, and was told that they had to go and meet someone in Greenford. The car was driven by a man he said he didn't know.
Once in Greenford, Dhillon claimed he stayed in the car with the driver and Sher Singh got out. After a short period of time Singh returned with a knife in his hand and said he had stabbed someone, they then drove off and disposed of the weapon and the clothing.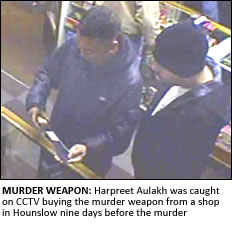 Sher Singh was arrested on 19 November and taken to a West London police station. His DNA was found to be on the jacket from the canal, which also contained DNA from the victim. He was subsequently charged with murder.
Officers were able to trace the murder weapon, a model imported from Brazil, back to a shop in Hounslow. Painstaking examination of the CCTV from the premises showed Harpreet Aulakh inspecting and buying the machete nine days before the murder took place.
Harpreet Aulakh was re-arrested in December 2009 and charged with the murder of his wife.
Both he and Sher Singh had claimed that they did not know each other, but officers uncovered evidence of them dancing at the wedding of Aulakh's brother, and Aulakh's brother had met Singh at the airport when he arrived in the UK to study in July 2009.
Further evidence also emerged that Aulakh had been at the house where Sher Singh was living with a group of other people a couple of weeks before the murder. When the group were discussing money, Aulakh offered to pay somebody £5,000 to carry out a murder and then pretended he was joking.
Jaswant Dhillon was arrested on 13 August 2010. Despite claims that he barely knew Harpreet Aulakh and had innocently been taken along to the murder, phone evidence shows they were in contact before the attack and on the day itself. He was later charged with murder.
Speaking after the verdict DCI Howard Groves of the Homicide and Serious Crime Command said: "Today Geeta's family and friends have finally seen justice served.

"Geeta was a much loved woman whose only 'crime' in the eyes of those convicted, and in particular her husband, was her decision to divorce him in order to make a better life for her children and herself, without his controlling and domineering influence. For that she paid the ultimate price with her life."