 Meet the mum-of-two who's proving a beauty hit for Cowell and Co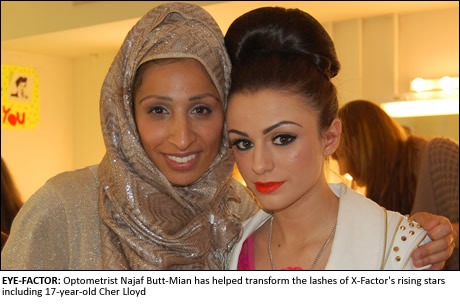 A MUM-of-two is proving to be the 'eye-lite' of the X-Factor live shows as she glams up the female stars of the show with her must-have beauty item of the moment – eyelash extensions!
Top optometrist Najaf Butt-Mian was approached by bosses of the hit TV show desperate to use the services of her eyelash extension company in a bid to turn contestants' eyes into winners.
London-based TLC The Lash Clinic already boasts a 'who's who' celebrity client list all desperate to get their eyes into what has been dubbed a must-have beauty essential.
And now mum-of-two Najaf can add the female X-Factor gang to that growing list.
In the past weeks rising stars Rebecca Ferguson, Cher Lloyd, Mary Byrne and former contestant Treyc Cohen have all had the 'TLC' treatment.
Najaf and her trusted team have given the girls stylish and safe, semi-permanent eyelash extensions that have left onlookers dazzled by the contestants' diva-like eyelashes, as well as their virtuoso performances.
"Marilyn Monroe famously said 'everyone is a star and deserves a chance to shine'," Najaf says.
"We're helping the brightest of upcoming stars to shine with enviable eyelash extensions that make their lashes longer, thicker and fuller for enchanting catwalk looks and maximum flutter power. Having stellar eyelashes is a real bonus on stage and when the paps are out.
"It's all about music with makeovers and turning Cinderella's into princesses, with eyelash extensions helping the process."

A qualified optometrist, Najaf has been performing eyelash extensions for five years.
She previously specialised in laser eye surgery for Ultralase, one of the largest UK companies in this field.
Najaf started performing eyelash extensions after her patients complained they could not wear mascara for two weeks after laser treatment.
Following the birth of her twins she left Ultralase despite being one of the highest paid optometrists in the country, setting up TLC The Lash Clinic in 2009.
The semi-permanent eyelash extensions offered by the clinic give bonding power lasting up to two months. They are resistant to water, showers, sweat, exercise, tears and even swimming, and are applied directly applied one lash at a time in a process that takes up to two hours.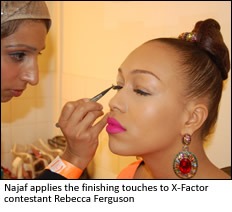 So how did Najaf go about working her magic on X-Factor's rising stars?
Contestant Rebecca Ferguson, Liverpool, was given a full set of extensions and regular 'infills' to complete the gaps in her natural lashes.
"Rebecca has small eyes and we decided to bulk out her fine, short eyelashes while retaining a natural look and without overloading them," Najaf says.
"She's a lovely girl and we didn't want to give her a 'fake' appearance as we didn't think it would suit her."
Teenager Cher Lloyd was equally impressed with her C-curl eyelash extensions.
"She (Cher) loved her semi permanent eyelash extensions and felt she needed them as she was getting fed up of constantly having to wear strip lashes and mascara first thing in the morning having to face paparazzi," Najaf says.
With the show hotting up, it's no wonder business is beginning to boom for Najaf. There are plans to extend the clinic's mobile service outside of London which is good news for all us beauty conscious women.