 Singer plans east London concert for fans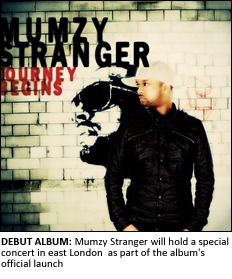 THE 'Journey Begins' for Mumzy Stranger as he is set to release his highly anticipated first album on 12th December.
The talented East London urban-bashment singer, songwriter & producer who was spotted and mentored by Rishi Rich has been on the music scene for the past four years and has released three hit singles and had a string of successful collaborations.
The rising star certainly hasn't gone unnoticed over the past 12 months grabbing the attention of the News of the world, Star magazine, Metro & Daily Mirror. His live performances have consistently gained positive reviews with one recent reviewer stating "….he's a newer, fresher Jay Sean & Sean Paul integrated into one person…"
The album will feature an eclectic mix of dancehall, reggae, bashment, hip hop and RnB and will consist of tracks produced by himself, renowned legend Rishi Rich and urban star producer Steel Banglez who has worked with likes of Tinchy Stryder. The album will also feature a special collaboration with urban star Wiley. Their track titled 'spaceman' will be the next single to be released from the album.
Speaking about the album Mumzy told DesiXpress: "I can't wait for everybody to hear the album, I've put my heart & soul into it and now I'm so excited for the world to hear it".
Mumzy will be performing tracks from the new album with a live orchestra to a close 600 fans and media at a one-off concert on December 18th at Stratford Circus. The concert which will be held in conjunction with Newham council was chosen for it's location as it reflects Mumzy's desire to return to his roots of East London right where it all began for the rising star.
The album and special concert represent the result of many years of hard work from the East London artist, but for Mumzy himself he's adamant that this is now just the beginning of his journey.