 Actress flies out to India to take part in reality show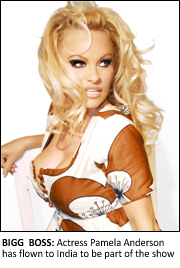 AMERICAN star Pamela Anderson is being lined up to appear in 'Bigg Boss', India's version of Big Brother.
The actress is expected to go into the house on Wednesday and take her place as a 'celebrity guest' in the fourth season of the reality TV show.
It will be the first time the show has invited an American citizen onto the show.
In 2008 former British Big Brother contestant Jade Goody took part in the show. She left the house after being told she had cervical cancer.
Speaking about her appearance, the former star of Baywatch said: "Namaste India. It's been a long trip from L.A. to come and visit you here, but I am very excited to be in India and to meet the BIGG BOSS house mates. Actually it's my first visit so I hope I will be able to get some impressions of the country during my stay."
Bigg Boss is one of India's highest rating TV shows and is presented by Bollywood actor Salman Khan.
Ashvini Yardi, Head -Programming, COLORS, said: "Bigg Boss Season 4 has been full of surprises. With Salman as the host and eclectic mix of housemates, we have kept millions of Indian viewers glued-on to their TV sets for the last couple of weeks. With Pamela Anderson coming as a celebrity guest, the glamour quotient of the show has gone up several notches."