 Police begin hunt for killers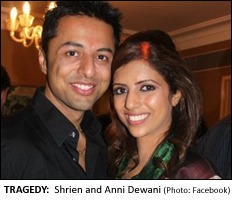 POLICE in South Africa have launched a murder hunt after a bride on honeymoon with her British husband was killed in a car-jacking incident.
The couple – named in reports as Shrien and Anni Dewani – had been married for just two weeks when their people carrier was targeted in a township on the outskirts of Cape Town late on Saturday night.
The gunmen drove off with the newlyweds inside the car, and although Mr Dewani, 31, was later released unharmed, the body of his 28-year-old wife was found on Sunday.
Mr Dewani is said to be from Westbury-on-Trym in Bristol, while his wife Anni was of Ugandan-Asian descent.
Western Cape Police spokesman Lieutenant Colonel Andre Traut said: "The driver was forced out of the vehicle then the two armed suspects took off with the vehicle with the couple inside." He said the husband was dropped off at midnight in Harare, an area of the township of Khayelitsha.
Officers then began to search for the car but when they found it in a nearby area, the woman was already dead. Lt Col Traut refused to comment on the cause of death but said a post-mortem examination would take place in the coming days.
Albert Fritz, the region's minister for community safety, appealed for local people to come forward with information and said: "This could have happened to any of our loved ones and it is important that communities become involved in doing the right thing."
A Foreign Office spokesman said: "We are aware of the situation and are providing consular assistance to a British national who is involved, and their family."
A Facebook tribute page called Memory of Anni Dewani has been set up, which reads: "You are always in our hearts. We will remember you forever."