 Drug dealers dealt 'expensive blow' in police raid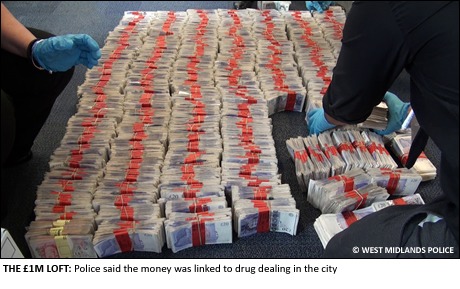 WEST MIDLANDS POLICE have dealt suspected drug dealers an expensive blow, recovering over one million pounds in notes from an address in Birmingham, the largest forfeiture of cash in the force's history.
The record-breaking discovery was made by officers executing a warrant at an address in the Stechford area of the city, believed to be linked to drug dealing activity.
During a search of the semi-detached house, officers discovered over one million pounds in cash and an industry sized cash counting machine in the loft.
West Midlands Police were successful in their attempt to forfeit the cash at Birmingham Magistrates Court on the basis that it was obtained through the proceeds of drug dealing.
The order allowed the police to confiscate the cash and keep it out of the hands of suspected criminals permanently.
The intelligence led police operation was carried out by detectives from Force CID, a specialist department set up to tackle the most complex and serious of crime in the area.
Last year West Midlands Police confiscated over five million pounds from criminals and seized over £1.8 million in cash. So far this year already £1.5 million cash has been seized and confiscation orders made for over £1.8 million.
Detective Chief Inspector Steven Reed, who heads the Economic Crime Unit, said:
"This is the most significant seizure of cash in the history of the force. Our specialist financial investigators have also been successful in forfeiting the money, which means it can be reinvested back into the community for the benefit of others.
"We hope it will go a long way towards disrupting criminal activity in the area and reassure members of the public we are fully committed to protecting them from drug dealers and any other form of criminal activity."
Police said a number of arrests have been made so far in relation to a wider investigation, which remains on-going.