 Ex-Lib Dem leader in Pakistan for fact-finding mission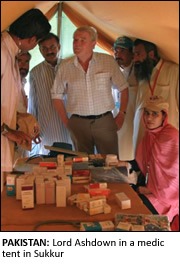 LORD Ashdown has been in Pakistan this week on a fact-finding mission as part of the UK's Humanitarian Emergency Response Review (HERR).
He visited flood affected areas near Sukkur in Sindh meeting victims and representatives from aid agencies who have been in Pakistan since floods ravaged the country in July.
Speaking from Pakistan, Lord Ashdown said the scale of flooding had "challenged everyone".
"This week I've seen some of the flooded areas of Pakistan. It's absolutely immense," he said.
"I expected there to be challenges, but the scale of this has challenged everyone – from the international community to the Government of Pakistan.
"This is a huge humanitarian crisis. At the same time people in Haiti continue to need a huge amount of help and resources. It's very difficult to respond to two or three disasters at the same time – but that's what the future is increasingly going to be. The fact is these disasters are going to get more frequent and more severe, so we have to think afresh, and ensure that everyone is working together as best they can. That's what this review is about, that's why we're here."
The devastating floods in Pakistan have affected 20 million people, and nearly two million homes; 10,000 schools; hundreds of bridges, roads, electricity pylons; and more than two million hectares of crops have been destroyed or damaged, as well as one million farm animals and six million poultry lost.
The British public has raised nearly £64m through The Disasters Emergency Committee who launched an appeal for donations in August.
Lord Ashdown added: "I take pride in the fact that the British people have shown such enormous generosity in their response. This is all the more remarkable considering that many families at home are worried about their own finances, their own futures, as we emerge from one of the deepest recessions in living memory. I can tell them, from what I've seen, the money they have donated directly, and which the British government has donated on their behalf, really is making a difference – a difference literally between life and death.
"But, and here's the crucial point, we owe it to the millions of people here in Pakistan who need our help, and to the millions of people back home who have stepped up to deliver that help, we owe it to them to ensure that every penny they have donated is properly spent, that it is saving lives, and that we build on the good work DFID is already doing. And that is what this independent review which the UK government has asked me to lead is all about."
The independent review, due to report next spring, is future oriented and is looking at how to build on the UK's strengths in responding to disasters, including exploring new technologies and partnerships, how to maximise local capacity and resilience, and examining how the UK, UN, and the international community can work together more effectively when responding to disasters and conflicts around the globe.