 Liberty demand removal of 'unlawful' surveillance cameras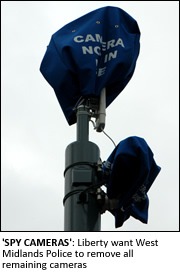 A POLICE force who installed a network of 'spy cameras' in predominantly Muslims areas in Birmingham have been told they will face legal action if the cameras are not removed.
Liberty said it will start a judicial review against West Midlands Police if it fails to remove cameras erected as part of its Project Champion scheme.
The spy network, which consists of over 200 covert and overt cameras, were put up in the Sparkbrook and Washwood Heath areas of Birmingham by the Safer Birmingham Partnership.
Critics said the cameras, some of which are hidden, were being used to spy on the Muslim community after it emerged the initiative was financed through a counter-terrorism fund.
Last month the Force Chief Constable Chris Sims apologised following an independent report into the scheme. He said none of the cameras had been used and that all covert cameras had been removed as a result of the report.
But he made no promise to remove the remaining cameras, saying their future would be determined following "work with a new project board which has strong community representation."
Liberty, however, wants the remaining cameras – which have had hoods placed over them – removed.
The group said the force must agree to "dismantle the full surveillance infrastructure or proceedings will be commenced in the High Court."
It also wants West Midlands Police to "acknowledge that the decision to install the cameras was unlawful and in breach of residents' rights under Articles 8 and 14 of the European Convention on Human Rights."
Corinna Ferguson, legal officer at Liberty who represents a number of residents of the affected areas, said: "It is baffling that West Midlands Police are still trying to salvage this unlawful and discriminatory scheme. These cameras are useless for everyday policing and must be removed immediately if badly damaged community relations are to be repaired."
Last month an independent report into Project Champion found that the scheme "should have been challenged from the start and questions should have been asked about its proportionality, legitimacy, authority and necessity; and about the ethical values that underpinned the proposal."
It also found the lack of transparency over the installation of the camera network "significantly undermined" police trust and set back relations by almost 10 years.
Salma Yaqoob, councillor for Birmingham Sparkbrook, said she hoped West Midlands Police responded "positively" to the latest development.
"Despite the devastating criticisms of the police in the report they commissioned into this project, the suspicion remains that they have not given up on Project Champion. The cameras are covered up, but are still standing," she said.
"I do hope that the police respond to this positively. This issue is not going to go away. The longer they delay, the harder it will become to rebuild trust.
"If there is one lesson the West Midlands Police need to learn it is that when you are in a hole you should stop digging."