 Hamzah Islam and Maison Boo go east for export success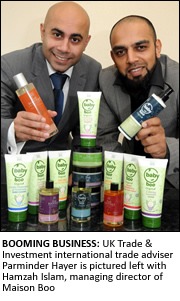 A COVENTRY skincare company, which was set up by a father looking for organic products for his baby daughter, is exporting to Eastern Europe and the Middle and Far East!
Managing director Hamzah Islam launched Baby Boo in 2008 to sell chemical-free, organic shampoos, oils, lotions and body washes for babies and young children, after noticing that conventional baby products inflamed his daughter's eczema.
Now called Maison Boo, the company has grown to employ 16 people and expanded its range to include products for women, particularly expectant mothers. Its products are on sale in independent pharmacies and health stores, as well as online.
Maison Boo is now set for further expansion after winning substantial new business in Singapore, Hong Kong, Dubai, Slovenia, Latvia, Lithuania and Romania, with help from UK Trade & Investment.
Hamzah said: "The value of our export business over the next financial year is likely to exceed £200,000 – more than double our current annual turnover.
"The advice and support from UK Trade & Investment, to help us research and visit new markets, has been fantastic."
Hamzah recently flew to Singapore thanks to a free British Airways return flight through a partnership with UK Trade & Investment.
He returned to the UK having secured business worth £70,000 following a deal to supply his products to nearly 100 pharmacies.
Hamzah has been working with international trade adviser, Parminder Hayer, since setting up the company.
"Parminder gave us some very useful information about doing business in Slovenia, which helped us reach an agreement with a distributor to supply 62 stores, and he is always able to help if we have any queries," Hamzah said.
UK Trade & Investment international trade adviser Parminder Hayer, based at Coventry and Warwickshire Chamber of Commerce, said: "The team at Maison Boo are achieving outstanding results with high quality, niche products in unusual markets.
"I'm delighted that we have been able to help and look forward to continuing to work with the company."
For more information about how UK Trade & Investment can help your business expand into new markets abroad, contact the international trade team at Coventry and Warwickshire Chamber of Commerce on 02476 654321.