 Only 30% of businesses take advice from outside bodies when failing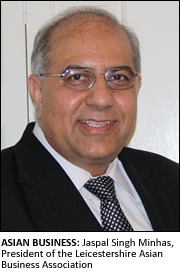 A NEW survey by the Leicestershire Asian Business Association (LABA) has highlighted the worsening state of British Asian businesses in the Leicestershire region.
The research of nearly 500 businesses, carried out between May to August 2010 focused on the causes leading to business failure and the processes that are in place to alleviate these challenges.
Jaspal Singh Minhas, the President of LABA, said the survey showed causes of business failure were led by a number of factors including insufficient access to capital from the banks, lack of working capital and a lack of business advice, planning and training.
Respondents to the survey said declining personal relationships with banks was a crucial trigger of the downward journey towards business failure. In addition, respondents accused banks of applying a post-code lottery and stereo-typing.
When closing their businesses, only 30% of companies took advice from Government Departments and nearly half – 48%- borrowed money or re-mortgaged family properties to pay off business liabilities as an exit strategy.
Respondents who had lost businesses also said they felt "stigmatised" and "discouraged" from starting again.
"The continued lack of general confidence in the business community is hampering future economic well-being of communities," Mr Minhas said.
"This research has shown that the British Asian Business Community has been hit disproportionately by the recession and lack of funding and support from the banks is driving an all time low in the level of confidence in enterprise."
In order to turn things around, respondents to the survey urged the Government and the banks to place more value on self-employment, which is currently seen as a last resort activity for economic wellbeing.