 Two appear in court charged with murder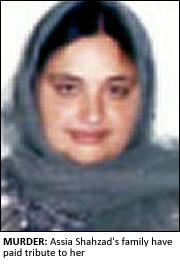 THE FAMILY of a woman found dead at her home in Buckinghamshire have paid tribute to her.
Assia Shahzad, 40, was found injured at an address in Wendover Road, Aylesbury, on Saturday night.
She died due to injuries to her head and arms, a post mortem revealed.
Ms Shahzad was rushed to Stoke Mandeville Hospital where she was pronounced dead.
Her grieving family paid tribute to Ms Shahzad as 21-year-old man and 16-year-old teen appeared in court charged with her murder.
In a statement her family said: "Assia was a loving daughter and sister and a devoted mother to her children. She was the most caring daughter that anyone could have wished for. She was a friend of Aylesbury and Aylesbury has lost a friend.
"She would go that extra mile to help others who needed it."
Usman Shahzad, 21, of Havelock Street, Aylesbury, and a 16-year-old boy from Wendover Road appeared at Aylesbury Magistrates' Court on Monday charged with murder.
They were remanded to prison and secure accommodation respectively.