 Priya Kaur-Jones hires Ketan & Harsha Jethwa to make wedding dress of her dreams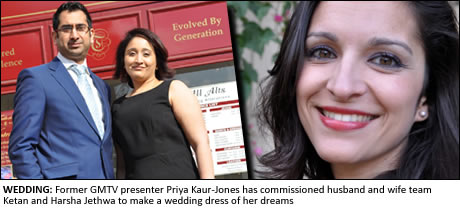 FORMER GMTV star Priya Kaur-Jones has turned to a Leicester couple to help prepare her for a wedding to remember!
Husband and wife team Ketan and Harsha Jethwa have been commissioned to make the former presenters wedding dress for her forthcoming nuptials to New Zealand diplomat, James Munro.
The couple's company, Jessica Farringdon Brides, is the bridalwear arm of their tailoring firm Tailoring UK – and Priya Kaur-Jones is just one of a number of celebrities to specify the brand since its launch just three months ago.
"I chose Jessica Farringdon Brides, as I'd heard about their outstanding work through a friend of mine for whom they make suits," Priya said.
"I immediately felt that they understood my ideas and were excited about making them a reality. Obviously I can't say exactly what I'm going for… but it's long and off white! It's very sleek, sophisticated and beautiful!"

In order to fit the dress perfectly, Harsha will be visiting Priya in Cairo, where she lives, and also catching up with her when she's back in the UK.

The dress will take three months to make, with the first fitting in December, when Priya is back in the Midlands.

Priya's husband to be James is a Kiwi, working as a diplomat for the New Zealand Government. They have been in Egypt for two years, and they're heading to Saudi Arabia for another two-year post at the end of January.

They met on a beach in Egypt, when Priya came on a recovery holiday after the London Marathon! They chose Goa for the wedding as it's equidistant between their families.

Priya's mum is Indian, and the wedding will have some traditional Indian ceremonies, mixed in with some New Zealand and British traditions. The wedding will be a three-day event, taking place at the start of January.

Speaking of the great start to Jessica Farringdon Brides, Ketan Jethwa said: "We've already had two society enquiries on the back of national wedding magazine publicity, so we're looking for further commissions at this end of the spectrum and hopefully more high profile clients like Priya."

Jessica Farringdon Brides will be exhibiting at the National Wedding Show from 8-10 October at the NEC Birmingham, on stand number H51.