 Jobless Ali Mahmood to serve minimum of 27 years in jail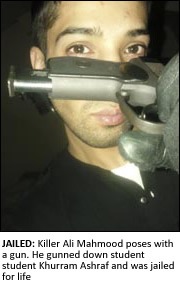 A 'cold blooded' killer stares menacingly into the camera holding a gun police believe was used in a violent armed robbery in which a Pakistani student was shot dead.
The picture was recovered from Ali Mahmood's mobile phone 24 hours after he blasted student Khurram Ashraf, 30, in the stomach during a robbery at a money transfer shop in Longsight, Manchester, on December 3 last year.
Mahmood, 30, was jailed for life at Manchester Crown Court Crown Square on Friday after pleading guilty to murder, robbery, possession of a firearm and possession of ammunition.
Passing sentence, Judge Andrew Gilbart QC, told him: "It was a cold-blooded and ruthless use of a gun to seize the day's takings of a local business.
"You stood in front of him and shot him down."
Hi accomplices, Junaid Anjum, 26, and Sufyan Butt, 26, both from Longsight, pleaded guilty to robbery and were jailed for 18 months and 13 months.
The court was told student Khurram Ashraf and his boss Mohammed Waqas were ambushed by Mahmood as they left their money transfer shop on 3 December last year.
Mr Waqas was carrying a laptop bag which contained a laptop and £10,000 in cash.
Mahmood went over and demanded the bag, saying he had a gun.
But Mr Waqas refused, threw the bag to Khurram, who went to run off with it.  
Mahmood hit Mr Waqas in the face before turning and shooting Khurram in the stomach.
As the student lay dying in the arms of his boss, Mahmood fled with the laptop bag.
Khurram later died in hospital from a single gunshot wound.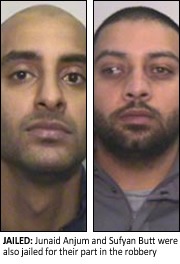 The court was told Mahmood met back up with the other offenders within 15 minutes of the robbery, the group went to Oldham and bought some cannabis.
Anjum later hid the laptop bag in the yard of an empty property at the back of his house. He had £700 of the stolen cash on him when he was arrested the next day.
Jobless Mahmood went on a spending spree at the Trafford Centre, buying himself clothes and a mobile phone.
Officers tracked him down and arrested him within 24 hours of the robbery and found £5,920 under his bed.
His mobile phone was found and examined and officers discovered images of Mahmood posing with a gun known to be of the same type that was used in the robbery. The gun has never been recovered.
Detective Chief Inspector Harry Harrison, from the Major Incident Team, said: "Mahmood had no desire to work and earn a wage yet thought nothing of taking from those who did. When people tried to protect their livelihood, he went so far as to kill a man.
"It goes without saying that impact of having an employee and friend lie dying in his arms will never leave Mr Waqas but the result should provide some comfort to him and Khurram's family."