 'Our thoughts are with the Pakistani people', says Andrew Strauss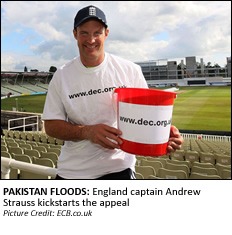 ENGLAND captain Andrew Strauss has called on fans to give generously as Pakistan struggles to cope with its worst floods for 80 years.
More than 1,400 people are estimated to have died in the disaster and, millions more have been badly affected.
England and Pakistan players have put traditional rivalries aside ahead of the second Test at Edgbaston to help raise money for those affected.
Strauss said: "Although we hope to win the second Test match, our thoughts are with the Pakistani team and the millions of people devastated by the floods.
"The best way to support the relief effort in Pakistan is to give money to the DEC (Disasters Emergency Committee) Pakistan floods appeal. We have organised a collection at Edgbaston, and I urge you to pick up the phone or go online and donate."
Salman Butt, the Pakistan skipper, added: "Millions of people have been affected by the severe flooding in Pakistan, including the family and friends of members of the Pakistan team currently here in the UK.
"Please give generously and support the DEC Appeal to help those whose lives have been washed away."
British Red Cross volunteers will be collecting funds during the first three days of the Edgbaston Test, which starts tomorrow. All money raised will go to the DEC Pakistan Floods Appeal.