 New Chick Flick top in Fashion stakes!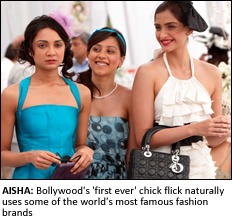 THE Devil may wear Prada according to some, but this month Bollywood is wearing Christian Dior!
The fashion giant has teamed up with the makers of new chick flick Aisha to dress Bollywood fashionista Sonam Kapoor in A-list gear.
A modern adaptation of Jane Austen's Emma, translated to Delhi's high society, Aisha has become the first Bollywood film to have an association with Christian Dior to this extent.
Vice President of Christian Dior Couture, Kalyani Chawla made reference to 60 Dior dresses and accessories being worn by the female lead and other cast members.
An example of this will be Sonam carrying a Lady Dior throughout most of the film.
But it's not just Christian Dior that's gone Bollywood crazy.
'Aisha', Sonam says, was a party as far as styling was concerned. After shopping trips to New York and London and outfits borrowed from various reputable closets, Sonam is wearing every designer label you can think of – from Christian Lacroix to Vintage Chanel.
Aisha is produced by Sonam's father Anil Kapoor and is out on nationwide release across the UK now.