 Midlands Dance Group aim for the stars in National competition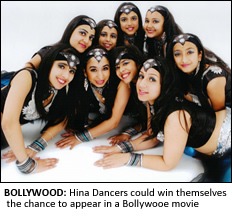 A MIDLANDS dance group will aim for the stars in the final of a major national dancing competition this autumn – in the bid to land themselves a dream role in a top Bollywood film!
Hina Dancers stunned judges in the semi-finals of the national Honey's Dance Academy & Desitara.com Bollywood Dance Championships to make it to the grand final which will be held at the O2 Indigo in London on September 12th.
And if there's a bigger incentive for Hina Dancers to triumph in the final it's the fact that they'll also be flying the flag for the Midlands as the only dance act outside of London to make it into the concluding showpiece.
The nine-member dance group, led by founder Hina Chavda, are now hard at work on their final dance routine which they hope will land them the grand prize of a major Bollywood film role.
Speaking to The Asian Today Hina said her dancers were excited at the prospect of being within touching distance of a Bollywood role.
"We never expected to reach the finals and here we are getting ready for 02 Arena," an excited Hina said.
"All we are doing at the moment is trying to get all the support we can and sorting out our new costumes designed and made especially for the finals. We want to look the best, after all we are representing the Midlands."
Hina is no stranger to Bollywood though having met some of the industry's major stars including Shah Rukh Khan and Celebrity Big Brother winner Shilpa Shetty.
She's also performed with her girls at major events including Richard Branson's Launch Party for Virgin Atlantic and in front of Simon Cowell at Britain's Got Talent in 2008.
BGT was an experience, Hina admitted, which left the group yearning for bigger success.
"It was a great experience for the whole group, we learnt valuable tips from the process and feel we gained so much from all the auditions and processes," Hina said. "It was a very nerve-racking, nail biting experience, however Hina Dancers stepped up another level and now we are thirsty for more."
We're sure the whole of the Midlands will be rooting for Hina and the girls come September!