 Call for recognition of Sikh soldiers who died for Britain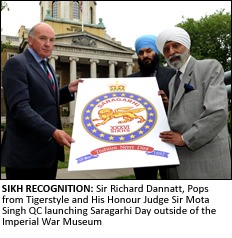 THE Sikh community are calling on the government to officially recognise the sacrifice made by Sikhs for the British Army.
THE former head of the British Army, Sir Richard Dannatt, helped launch a special anniversary day at the Imperial War Museum to honour and recognise the sacrifice made by 21 Sikh soldiers during an eponymous battle in 1897.
The soldiers died defending an army post against 10,000 Pashtun tribesmen in the North-West Frontier Province, now part of Pakistan.
When the gallantry of Saragarhi was recounted it led Queen Victoria to remark: "The British, as well as the Indians, are proud of the 36th Sikh Regiment. It is no exaggeration to record that the armies which possess the valiant Sikhs cannot face defeat in war."
The 21 Sikh soldiers who sacrificed their lives were posthumously awarded the Indian Order of Merit, the highest gallantry award of that time that an Indian soldier could receive.
The special anniversary day, called 'Saragarhi Day' will take place on 12th September and will be marked by a series of events across the UK .
Sir Richard Dannatt said: "Sikh regiments have played an enormously important role in the British Army and the soldiers who laid down their lives at the Battle of Saragarhi were immensely brave and loyal.
"The Battle of Saragarhi is not well known and certainly hasn't achieved the recognition of a battle like Rorke's Drift but is an extremely important part of history and should be remembered and thanks paid to the soldiers and their families."
He was joined at the launch by Pops from Scottish music act Tigerstyle and His Honour Sir Mota Singh QC.
His Honour Judge Sir Mota Singh QC, added: "These 21 brave soldiers laid down their lives to save others and it is really important that Sikhs of all ages recognise the sacrifice that they made.
"We are also asking the Government to formally recognise the sacrifice made by these Sikhs."
The campaign is urging people to pledge their support by logging onto Facebook and searching 'Saragarhi Tradition Never Dies'.
He was joined at the launch by Pops from Scottish music act Tigerstyle and His Honour Sir Mota Singh QC.