 Victim Swinder Singh Batth was hit by 'poorly-aimed bullet'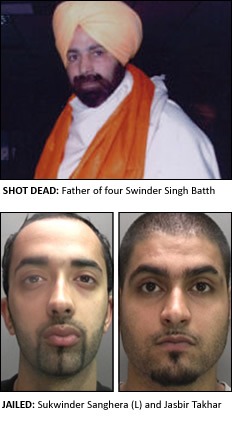 TWO MEN have been jailed for life today for the murder of an innocent Bilston bar owner.
Swinder Singh Batth, a married father-of-four, was shot in the chest outside Gavin's Sports Bar in Bilston last July.
Sukwinder Sanghera, 24 was found guilty of firing the "poorly-aimed" bullet which was intended for someone else which killed Mr Batth.
Another man, Jasbir Takhar, 23 was also found guilty of murder following an eight-week trial at Birmingham Crown Court.
Today both men were jailed for life and told to serve a minimum of 28 and 29 years behind bars.
Four men – Gurpreet Singh Ottalan, 23, Onkar Singh Sangha, 22, Jarnail Bajwa, 35, Narinder Kumar, 26 – and one woman, Neesha Dubb, 20, were found guilty of conspiracy to commit violent disorder and were given sentences ranging from one year and nine months to three years.
Two further men – Shiv Dubb, 18, and Amardeep Singh Narwal, 26, were found guilty of witness intimidation and were sentenced to three years and six months and 195 days.
Birmingham Crown Court heard Mr Batth died minutes after being shot in the chest at Gavin's Sports Bar.