 Meet the British Muslim who won't be supporting Pakistan at Edgbaston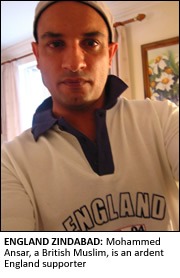 MEET British Asian Mohammed Ansar.
He's your ordinary kinda guy; holds down a god job, loves his curry and doesn't live too far from his mum. But this Mohammed is somewhat different from your average British Asian. When it comes to cricket, in particular England v Pakistan he'll probably be the only brown face in the England end. Yes, he refuses to wear the green and white of Pakistan, instead preferring to drape himself in the Union Jack. With Pakistan taking on England in the second of a four-match Test Series we caught up with Mohammed to find out why he'll be screaming 'England Zindabad' at Edgbaston for the next five days…
IT'S here again- the Test series that every Pakistani in the UK waits for religiously to come round every few years, England versus Pakistan 'Zindabad!" 
As an Asian born in the UK (Bradistan for that matter), one would think that my loyalties were pretty sorted and I would be cheering on the country of my parents' birth, but NO, I am squarely behind the country of MY birth and will be cheering on England to the bitter end.
Last time we played Pakistan, I had to eat humble Halal pie. I tipped my hat in reverence to the Pakistani team and took it like a man when required! I settled my bets. But this time round even my Pakistan supporting friends are not that confident of a victory and the bets are not as generous as they once were…they blame it on the credit crunch… I blame it on a certain lack of conviction on their part!
With the present Test series, I feel that there will be no eating of humble Halal pie or being taunted and goaded by friends because I cannot see how my beloved England can ever lose to the arch enemy. We are buoyed by our recent victories against everyone including beating Bangladesh- despite the humiliating loss in the second game but I see that as our care in the community duties by letting a lesser cricketing nation beat us to give them some confidence and then whooping them in the next match. And of course, we should not forget that England are the reigning champions of the world in the T20 World Cup.
I genuinely believe that the England selectors have finally come of age and realised that selection of players and the game plan has to match a modern form of cricket. The introduction of the 20/20 form of the game has revolutionised the skills that players now demonstrate and these new shots, dinks and power hitting will translate into the long hard slog of the 5 day test match.
We (England) have transformed ourselves into world beaters and with players such as Morgan, Pietersen, Bresnan, Broad, Anderson and the multitude of others. Our pace attack is magnificent and with Swann still coming of age, I cannot see how the young team that Pakistan have sent out will be able to hold their nerve. Our batting line-up wags magnificently and even if the top or middle order batsmen fail, there is talent in depth. Can we say the same for the opposition….. I think not!
Pakistan might be brimming with confidence after their victory over Australia in L0eeds but they did make a curried meal of it. If memory serves me right, they lost four wickets when they only needed 40 runs to level the series so the young lions of Pakistan are not that steady when it comes to pressure situations.
I'm proud to be English and I'm even prouder to support the English national teams, even when we are not doing as well as I think or want us to do (need I mention the FIFA World Cup). I've lived all my life in this country, speak English better than my cultural language (Urdu or Punjabi, can never remember which) and have worked for some of this country's biggest institutions so it's only natural and right that I follow the national sporting heroes of my country of birth: England.
So, who am I going to support when England thrash Pakistan?
There is only one team for me and that is England. So does that make me a traitor to the cause…of course it doesn't.  
For a start, I know the names of the England cricket players, have seen them play and know what they are capable of. I couldn't even name one of the present Pakistani cricketers if my life depended on it..does Imran Khan still play? 
So knowing the above, my decision to support England and will them to a magnificent thrashing of a team that are more interested in plotting to oust their captains and serve their own needs rather than the supporters that would spill blood for them, is an easy one. Come on England- do me proud!