 Millions affected by flood waters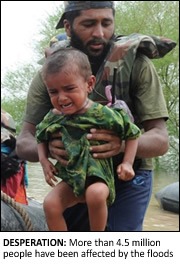 THE DEC Pakistan Floods Appeal has reached £2.5 million within 12 hours of the first television appeals being broadcast on Thursday evening.
The donations will help the DEC's 13 Member Agencies provide the life-support that is desperately needed in Pakistan where 4.5 million people have already been affected and flood waters are still spreading.
With bridges down and roads flooded or damaged, aid workers have in some cases tackled the challenging terrain using donkeys, rafts or on foot.  
So far DEC members and their partners have helped 300,000 survivors, providing emergency medical care, clean water, food and shelter.

More than half a million people have been evacuated from the 11 most vulnerable districts in Sindh Province in the south of Pakistan where more people live. A number of villages are already under water in northern Sindh where member agencies are already responding.

The ITV and BBC appeals are being presented by actor Art Malik, who was born in Pakistan, and John McCarthy, journalist and former British hostage in Lebanon.

Art Malik said: "Millions of people's lives have been turned upside down by this terrible crisis.  Aid is getting through to survivors, including women, children and the elderly, but with your help, much more can be done.

"In these difficult times your generosity is very much appreciated. All donations to the Disaster Emergency Committee Appeal, no matter how small, can make a big difference to people's lives."

A £25 donation will pay for 5,000 chlorine tablets for safe drinking water, £50 will feed two families for a month and £100 will buy an all-weather family tent.

Brendan Gormley, Chief Executive of the DEC said: "Once again, the generosity of the British public has been fantastic. This money will have a significant affect where it is needed most. Aid agencies are already distributing medical supplies, clean water and food parcels, but this will allow them to really scale up their response.

"We need your continuing support to help even more individuals and families displaced, hurt or separated by these crises."

The money raised through the DEC appeal goes to the member agencies, many of whom have a long history of working in the affected regions.
The DEC member agencies are Action Aid, Age UK, British Red Cross, CAFOD, CARE International UK, Christian Aid, Concern Worldwide, Islamic Relief, Merlin, Oxfam, Save the Children, Tearfund, World Vision.
To make a donation to the DEC Pakistan appeal call the 24 hour hotline on 0370 60 60 900, visit
http://www.dec.org.uk
or donate over the counter at any post office or high street bank, or send a cheque. You can also donate £5 by texting the word GIVE to 70707.