 Did British Asian journalist seal Liverpool's £80m shirt deal?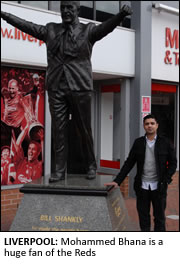 AS one of British banking's best kept secrets, Standard Chartered Bank will prepare for life in the spotlight next season after its record £80 million shirt sponsorship deal with Liverpool FC.
However revelations of a meeting in Singapore between Liverpool's Commercial Director Ian Ayre and senior executives from Standard Chartered Bank have emerged – and they point to a British Asian journalist.
 Copies of the acclaimed book 'Asian LiverBird' by British Asian journalist and PR man Mohammed Bhana, were given to Jaspal Bindra, Standard Chartered Bank's Asia Chief Executive in attendance along with his most trusted officials.
Bindra was said to have been so enthralled with the book which highlights the club's Asian support and with Bhana's style of writing and menu of stories, he immediately gave London based Standard Chartered executive, Simon Mould the go ahead to progress with the record £80 million pound deal, much to the chagrin of Liverpool's American owners.
 And although the revenue from such a deal is a drop in the ocean compared to the debt the club, through Tom Hicks and George Gillett's holding companies, must service, the author of The Asian Liver Bird, Mohammed Bhana, who met with officials from Standard Chartered Bank, insists he is not interested in profiting further from the book.
On the contrary, Bhana has received offers from a number of Premier League clubs, all eager to tap into his vast wealth of knowledge regarding the Indian and Middle Eastern markets.
 "I'm not interested," said Bhana when asked if Liverpool should have given credited him with influencing a major blue chip organisation into signing a deal with the ailing Premier League club.
Bhana refuses to gain credence and insists money accumulated from interest does not appeal to him in any way, shape or form.
 "I met with an official from Standard Chartered and he told me about the meeting in Singapore, but truth be told, as a Muslim, I can't pocket any interest money at all, so I don't think I'll be taking that option any further.
"I've had offers from Premier League clubs and whatever is meant to be, will be."
When asked about Liverpool's American owners, Bhana explains how he advised the club to go for Arab investment in 2006.
However, he singles out Manchester City as a positive example for Premier League clubs.
The club was brought by the Abu Dhabi United Group in 2008 with a vow to bring the world's best players to Eastlands at any cost.
"I told them (Liverpool) to go with the Arabs, but unfortunately, that did not happen," Bhana said.
"Now the club that did eventually decide to take Arab money, Manchester City, will no doubt become a major force in world football because they have the financial clout and will be able to attract a great number of sponsors from all over Asia to the Arab world, so the new UEFA rules which come in place soon, won't hinder them.
 "The initial hysteria in relation to City's Arab owners was laughable, with some observers, seemingly claiming it would be the end of English football as we know it, however, City have respectable owners who are hell bent on taking the club to places which their fans can only dream off, and that could have been Liverpool!
"I've been looking into City's fan base, and they also have an enviable amount of Asian fans, they have just opened their first academy in India and the club's City in the Community scheme is just something else.
"Arsenal are big in Africa, Tottenham are making strides, Manchester United's fan base is big, but regardless of how good their financial model is, the debt which has been saddled onto the club is just unsustainable. Manchester City on the other hand, will be fine."
Liverpool fans will no doubt be holding their heads in their hands when they read what the man behind the 80 million pound book has to say, and only think about what could have happened!