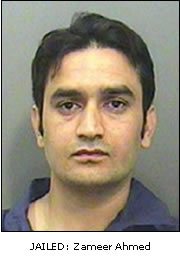 A MAN who admitted stabbing his wife to death has been jailed for life.
Zameer Ahmed, 27, was sentenced by a judge at Manchester Crown Court after pleading guilty to the murder of his wife Nazia Ahmed in Blackburn last year.
He was told he must serve a minimum of 16 years before being considered for parole.
Another charge of wounding with intent to cause grievous bodily harm relating to Ahmed's attack on his sister-in-law Shazia will remain on file.
She had tried to protect her sister before running for help during the attack in June 2006. Mrs Ahmed, an accountancy graduate who worked for Lancashire County Council in Preston, was stabbed six times in the chest, back, neck and arms in the horrific attack.
She had managed to call her family who rushed to the house she shared with her sister Shazia, only to find her blood soaked body.
She was still breathing by the time police arrived at the house but she died later at Royal Blackburn Hospital.
Her sister, Shazia, who had tried in vain to stop the attack, was also taken to hospital where she was treated for serious stab wounds.
In sentencing Ahmed, Judge Michael Henshell described the attack as "savage".
"There were cultural differences standing between you but no one could ever imagine that whatever the extent of those differences they would lead to this tragic and savage offence," he said.
"If Shazia had remained there in the house there's every possibility she would have suffered the same fate as her sister."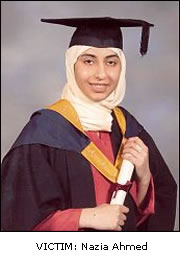 The couple had married in 2002 after an arranged marriage, but they separated 18 months later.
Detectives believe Ahmed snapped after Nazia refused to be reconciliated with her estranged husband.
On June 17 last year, less than an hour after attending a family party at his wife's house, Ahmed attacked Nazia.
He had originally left the party and went to the restaurant where he worked and stole two 20cm kitchen knives. He returned to the house and confronted Nazia about why she would not see him.
After fighting off her sister, he stabbed Nazia, inflicting wounds up to 15cm deep, in an attack which lasted less than three minutes, the court heard.
As Nazia lay dying in her home Ahmed fled the scene while police launched a nationwide manhunt.
He fled to Clitheroe where he was captured on CCTV camera's. He then made his way to London, before going up to Glasgow and then back to Blackburn.
It was in Glasgow that he mentioned the murder of his wife to a restaurant manager.
Arriving back in Blackburn nine days after murdering his wife Ahmed was arrested by police after arranging to meet with his wife's uncle Mohammed Illias.
Ahmed had told the police he was convinced his wife was having an affair – a claim detectives have not be able to prove.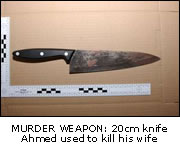 Speaking after the hearing Detective Chief Inspector Neil Hunter paid tribute to Nazia's family.
"My thoughts, and those of the investigating team, are very much with Nazia's family, particularly Shazia, who have acted with great dignity throughout this very difficult ordeal and have fully supported the police investigation", he said. 
"They have lost a loving daughter and sister who was a young woman in the prime of her life.  Zameer will have to live with the result of his actions for the rest of his life."