 What's On Bollywood with Manish Gajjar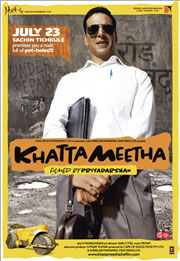 KHATTA MEETHA
Director: Priyadarshan
Cast: Akshay Kumar, Trisha Krishnan, Rajpal Yadav
Struggling road construction contractor, Sachin Tichkule struggles to climb the corporate ladder.
His dream will never come true simply because he has no money to bribe! What's more, the new municipal commissioner turns out to be his ex-girl friend who hates him.
So as Sachin scrambles his way from one disaster to another, this light hearted entertainer reveals the extent of corruption and bribery that's widespread in Indian businesses. How Sachin adopts ingenious ways to survive the work ethics form the crux of this Priyadarshan comic caper.
After his recent mega box office success with Housefull, Akshay Kumar returns once again in this feel good entertainer full of comic moments typically Priyadarshan style. Kumar's excellent Marathi speaking skills will be put to the test in the much talked about song sequence, 'Nana-chi Taang' destined to be the biggest hit of the year. This social satire aims to take a light hearted look at the lucrative but highly corrupt business of road construction in India.