 Victim Rizwan Ahmed beaten unconscious before being set alight
THREE men who beat a man unconscious before dousing him in lighter fluid and setting him alight have been found guilty of attempted murder.
Rizwan Ahmed, 25, was lured to an east London park last November before being kicked and stamped on as he lay on the ground.
His attackers, Jermaine Joseph, 23, Shane Dedman, 21, and Kieren Bruff, 22, fled momentarily before returning to the park and setting Mr Ahmed alight. 
He suffered more than 40% burns to his body following the sickening attack.
Detectives said the reason for the attack remained unknown.
Investigating officer, Detective Inspector Luke Marks of Tower Hamlets CID said Mr Ahmed had been a victim of "sadistic bullying".
"The reason for the attack remains unknown- only those found guilty truly know why they chose to beat Mr Ahmed to the point of unconsciousness, before pouring accelerant over him and setting him alight," he said.
The Old Bailey was told Mr Ahmed was attacked in Mile End Park on 2 November after meeting up with Joseph and Dedman who he knew.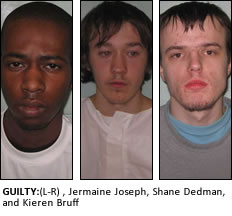 He was beaten to the point of unconsciousness and left lying on the ground. The defendants ran away, but returned moments later to set Mr Ahmed alight, having doused him with two bottles of lighter fluid- stolen by Joseph from a petrol station earlier.
Despite his injuries, Mr Ahmed managed to put out the flames. He was spotted by members of the public and rushed to hospital where he was diagnosed with 44 per cent burns to his lower limbs/abdomen/hands and arms. He also developed septicaemia and pneumonia.
Detective Inspector Luke Marks said: "Mr Ahmed is a quiet, unassuming man who appears to have been targeted for no better reason than some extreme form of sadistic bullying. Mr Ahmed is now trying to rebuild his life, however the physical and psychological injuries he sustained will remain with him forever."