 'Help end family's agony, say police in Mahmood Ahmad investigation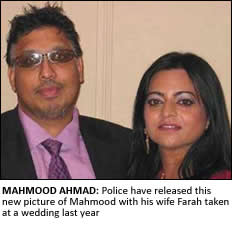 ON the three-month anniversary since Watford man Mahmood Ahmad was kidnapped, police are renewing their appeals for information with new photos of him.
The 41-year-old was kidnapped from outside his home address on Radlett Road in Watford in the early hours of March 7 after finishing work at the Lahore Kebab House on Umberston Street, Aldgate. His severed thumb was found in Ilford on March 10.
Three months later, officers are now releasing two new images of him, one with his wife Farah.
They were taken at a family friend's wedding at Pendley Manor in Tring, during early October last year.

Five men were charged with his murder last month and other related offences. Two women have also been charged with related offences. A man in his 30s has also been arrested in connection with the incident and is currently on police bail.

Detective Chief Inspector Melanie Burn, of the Bedfordshire and Hertfordshire Major Crime Unit, said: "Three months on and the pain of not knowing what has happened to their beloved husband, son, father and friend is still just as strong for Mahmood's family.

"We are hoping that releasing these images of Mahmood at a happy family occasion and with his wife will help people to see him as a much-loved family man who was central to his family unit and very much missed.

"We are hoping that it will prompt anyone who has information they have not come forward with yet to do so and help us end his family's agony. That is our and the family's plea today."
Police said they were still appealing for information on a blue old-style Honda Civic believed to have been used in the kidnap.
The car wanted by police has the registration V369 GUP and a creamy-brown interior. The model is a VTEC SE Automatic 5-door car with alloy wheels.

Those with information are asked to urgently call the incident room on 01707 355798. Alternatively, call Crimestoppers (an independent charity) anonymously on 0800 555111.