 City chippe fined over £7,000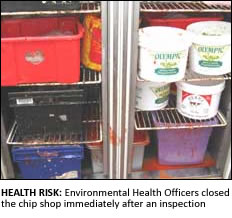 A CHIP shop owner whose business was so dirty that it had to be immediately closed down, has received asubstantial fine at Birmingham Magistrates Court.
Arshad Hussain Ghani, 41, who ran Hajee's Chip Shop on Stratford Road was fined a total of £7, 105 for five food hygiene offences.
Following a routine inspection last May, Environmental Health Officers from Birmingham City Council, found the premises to be filthy, with evidence of mice infestation.
Mouse droppings were found throughout the premises including in food preparation rooms, work surfaces and shelving near food and food packaging.
Evidence of other poor food hygiene practices and poor levels of cleaning were also found, including a number of potential cross contamination risks.
Raw meat was being stored above uncovered relish in the fridge, food was being stored in dirty containers, internal surfaces of the fridge covered in food spillages, food was being prepared on heavily scored chopping boards and the handles of the rotisserie were covered in food residue.
The conditions found posed an imminent risk of injury to health and a Hygiene Emergency Prohibition Notice was served to immediately close the premises.
A revisit later the same month revealed further evidence of an active mouse infestation as more droppings were found on surfaces and in food rooms, and the level of cleanliness remained poor. A Hygiene Emergency Prohibition Order was obtained from Birmingham Magistrates Court to ensure the premises remained closed.
In June 2009 officers visited the premises and were satisfied that the imminent risk of injury to health had been removed as no further pest activity was observed and all the cleaning had been completed so the premises was allowed to reopen.
Councillor Neil Eustace, Chair of the Public Protection Committee at Birmingham City Council, said:
"I am pleased to see that Mr Ghani has received such a substantial fine from the court, he had no regard for the health and wellbeing of his customers.
The court has taken this offence seriously, perhaps now Mr Ghani will take a more serious approach to keeping his premises clean in future."