 Raid on 'poisonous' beauty products sold on the streets of Birmingham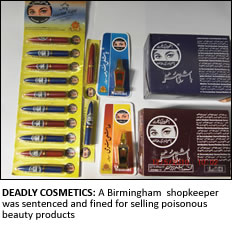 COUNCIL officials in Birmingham have issued a warning to the city's Asian community after a shopkeeper was sentenced and fined for selling poisonous beauty products.
Trading Standards officials raided the Amsons Islamic Stores on Coventry Road Small Heath following a complaint about the safety of a 'Hashmi' branded eye liner sold in the shop.
A number of products seized from the shop were found to contain a number of poisonous ingredients including lead, mercury and hydroquinone which can cause a variety of health problems including kidney damage, brain damage, depression and vomiting.
Amazingly the shop had been ordered previously by Trading Standards officials NOT to sell the poisonous products – a warning ignored by owner Tahir Mahmood.
At Birmingham Magistrates Court Mr Mahmood was given a 12 month Community Order and ordered to pay full prosecution costs of over £3,000.
A full-scale raid on the shop also found illegal skin lighteners – a popular purchase for the Asian community.
A spokesperson from Birmingham City Council said: "The use of skin whitening products is extremely popular amongst Black and Asian women. These creams, often called skin toners, complexion, beauty and skin creams, often contain hydroquinone to bleach or lighten the skin.
"However, this bleaching action is reversed by exposure of the skin to strong sunlight. Excessive use of products containing hydroquinone can lead to permanent damage of the skin pigment.
"Despite the danger, certain brands of cosmetics containing lead have also been used for generations and many people mistakenly believe that using these eye liners keeps the eyes bright and healthy."
A number of cosmetics found to contain lead and mercury include surma and eye liner from the Hashmi range, Stillman's Freckle Cream and Skin Bleach cream, Brido Whitening Cream, Shirley Beauty Cream and Golden Pearl Beauty Cream.
Before buying any beauty product, Trading Standards advised customers to check the labelling on either the product or the box; making sure it contained a list of ingredients, name and address of the manufacturer or supplier and a 'batch number'.
Councillor Neil Eustace, Chair of the Public Protection Committee at Birmingham City Council, said: "I am urging people not to buy these so called beauty products for the sake of their health. If anyone has been using these products, they should stop doing so immediately. If they are concerned about skin damage or any health issues they should consult their doctor straightaway.
"A lot of these products originate from America and the Asian sub-continent. They have been imported into Europe without the importer carrying out stringent safety checks before supplying them.
"Lead is a toxic metal that if ingested into the body can cause brain damage, damage to the nervous system, kidneys and reproductive system. Lead poisoning can lead to learning and behaviour problems in children.