 Detectives continue hunt for killers of Sukhwinder Singh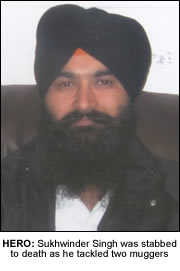 DETECTIVES investigating the murder of have-a-go hero Sukhwinder Singh have issued a £20,000 reward for information.
The father-of-one was fatally stabbed as he tackled two muggers moments after they snatched a woman's handbag near Barking station on Friday 8 January.
Mr Singh chased the men for some 50 to 70 yards along Victoria Road into Uphall Road after witnessing the mugging in nearby Loxford Road.
Detectives believe an altercation between Mr Singh and the two men took place in Uphall Road which resulted in Mr Singh's fatal stabbing.
Police have issued CCTV footage of people they are keen to trace as part of their investigation.
The victim's handbag, described as brown leather with a light and dark brown pattern, is yet to be recovered by police. They are also keen on tracing the victim's mobile, a silver Samsung E250.
Detectives believe the bag may have been discarded in a garage area near Charlton Crescent in Barking a mile and a half from the scene of the mugging.
Detective Chief Inspector Steve Clayman, who is leading the murder investigation, said: "We still need the public's help in tracing those responsible. I am quite sure that those involved have spoken to others about it and I need them to do the right thing and come forward.
"In relation to the outstanding property, did you see the handbag or mobile 'phone in the garage area off Charlton Crescent? Were you offered a silver Samsung slide phone in January?
"If you have any information at all, however insignificant you think it might be, please contact us as soon as possible."
Police believe there may have been more than two suspects involved in the incident.
DCI Clayman said: "Though some arrests have been made, we stress that the investigation continues and we still need help from the public – all our points of appeal are still relevant.
"We need to hear from anybody who witnessed the initial robbery, the actual stabbing and anyone who may have seen suspects running away from the Uphall Road area."
Related Articles