 BME smoke alarm plea launched by prize winning Sheffield youngster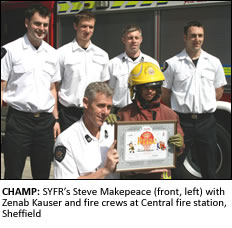 AN arty British-Asian youngster from Sheffield has picked up a top national award after wowing judges with her designs in a major kids fire safety contest.
Nine-year-old art champ Zenab Kauser, from Tinsley, Sheffield was presented with a certificate and prize by managers at South Yorkshire Fire & Rescue's Central fire station, after being named as a runner up in the national art competition aimed at raising awareness of fire safety in ethnic minority homes.
The presentation was used to launch South Yorkshire Fire & Rescue's own fire safety campaign to fit more free smoke alarms in Asian homes across the county.
The fire service is targeting BME groups in South Yorkshire as it seeks to work with areas of the community which are most at risk from fire, in a bid to further reduce deaths, injuries and incidents.
The Fire Kills art competition was launched by Communities & Local Government as a way of engaging children from different ethnic communities to learn about fire safety in the home. People without a working smoke alarm are more than twice as likely to die from a fire and research shows that the Pakistani, Bangladeshi and Somali heritage communities are at particular risk.
Children across the UK were challenged to come up with a new 'Fire Safety Hero' that could be used to warn against the dangers of fire. More than 200 entries were received and presented to the judging panel, which comprised of BME art and culture experts from around the country.
Steve Makepeace, South Yorkshire Fire & Rescue's head of community safety, said: "It is brilliant to see children like Zenab using their creativity to help others learn the important messages of fire safety in the home.
"Fitting free smoke alarms in BME homes is a priority for us as we seek to target our home safety checks at those areas of the community which are either most at risk of fire, or more likely not to have a working smoke alarm."