 CCTV released by detectives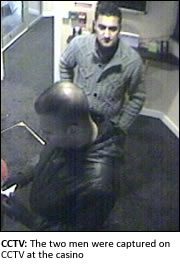 TWO men who used stolen bank notes in a Birmingham casino could help police solve a major robbery.
These CCTV images, taken at the casino in the Star City complex, show two men inserting the notes into a slot machine.
Staff became suspicious and called the police when they saw the notes – stained with red dye – as they cashed-up at the end of the night.
Police said an initial examination of the notes by officers, suggested that the dye is a special anti-theft ink used by banks when transporting cash. 
During a raid, dye is released to stain the notes and render them worthless in over-the-counter transactions.
A total of £345 was recovered and officers believe the men may hold vital information surrounding the robbery.
PC Frances Le Fevre, from Nechells police station, said: "There is no suggestion at this stage that the men we wish to speak to were involved in a robbery. 
"But they will be able to tell us how they obtained the notes which may in turn help us solve a serious crime."
Police said the slot machines used were in an area of the casino which is open to the public and the men are not believed to be members.
The notes, seized after the February incident, are currently undergoing specialist forensic examination.
Anyone who can identify the men are urged to contact their local police station or call the national charity Crimestoppers anonymously on 0800 555 111.