 Outrage over detention of Pakistani mother and eight-month-old baby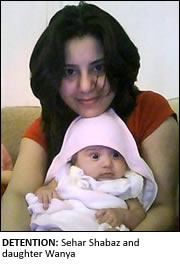 A CHARITY has labelled new government measures to stop child detentions at a Scottish immigration removal centre as a "joke" following the decision to transfer a Pakistani mother and her eight-month-old baby to a Bedfordshire centre.
Robina Qureshi, director of the charity Positive Action in Housing accused the government of "simply transferring the shameful practice of child detention from Scotland to England."
UK immigration minister, Damian Green, was forced to act yesterday following outrage over the detention of Pakistan-born Sehar Shabaz and her eight-month-old daughter Wanya at the Dungavel immigration removal centre in Scotland earlier this week.
The family's case sparked uproar as it emerged just days after a commitment to ending the detention of children at Dungavel was announced as part of the coalition deal agreed between the Conservatives and the Liberal Democrats.
Announcing the end of the practice, Mr Green said: "This is something which many groups in Scotland have been calling for, and we are now delivering this positive outcome.
"We are committed to ending the detention of all children for immigration purposes."
But MsQureshi called the decision to force Ms Shebaz and her baby to take a gruelling nine hour journey from Scotland to Yarls Wood centre in Bedfordshire as a "joke".
"The new coalition government's policy to end detention in Scotland immediately is a joke, those very same children, as young as 8 months old, are being driven hundreds of miles to be locked up in Yarls Wood instead," she said.
"We hope that the coalition government is not simply transferring the shameful practice of child detention from Scotland to England in the interim while alternatives to detention are found. The announcement suggests that Scottish asylum children will simply be transferred directly to England instead, therefore taking the problem off Scottish soil. If this is the case then Scottish asylum families can still expect to be incarcerated; only they will be driven hundreds of miles away to England to be locked up. This sort of nightmare is playground talk for many asylum seekers' children in Glasgow."
Ms Shabaz was detained by Scottish authorities on Monday and told she would be deported to Pakistan this weekend following a failed asylum application.
She moved to Glasgow a year ago after escaping from a forced marriage and her violent husband.
She said it was "impossible" for her to return to Pakistan for fear of her safety.
"My in-laws are harassing my family and claiming that I am a fallen woman who has run off with another man," she said. "This couldn't be further from the truth. This is the system I would be returning to if they deport me. They won't spare me; it's not a small issue if a girl runs away from her husband or in-laws. Our only value in Pakistan now is if I am dead. It is impossible for me to return to Pakistan."
Ms Qureshi, from Positive Action in Housing, said Ms Shebaz's story was "typical of many Pakistani women fleeing violent partners."
"Sehar is unable to return to Pakistan for fear of violence from her husband's family after she fled his domestic violence," she said. "Sehar Shabaz's story is typical of many Pakistani women fleeing violent partners. They become stigmatised by society for leaving their husbands and it is impossible to live without fear of extreme violence by the extended family, such violence includes the fear of acid attacks and even murder."