 Janaid Qureshi described as 'high profile man' in the Blackburn community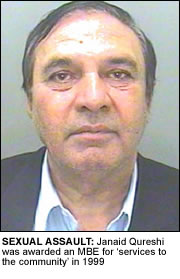 A BLACKBURN man who was awarded an MBE for his services to the community has today been sentenced to four years in prison after being found guilty of sexual assault.
Janaid Qureshi, 61, was arrested in October 2008 and later charged with six counts of sexual assault against a 25-year-old woman.
He was found guilty following a week long trial at Bolton Crown Court in February and will now be on the sex offenders register for life.
Qureshi was awarded an MBE for 'services to the community' in 1999 and was described by police as a "high profile man" in the Blackburn community.
At the time of the offences he worked as the Chief Executive of EMDA, the Ethnic Minority Development Agency within Blackburn, an organisation which supports and assists foreign nationals who move into the UK.
Detective Inspector Jill Johnston from the Force's Public Protection Unit said: "This is a significant sentence which reflects the seriousness of this offence and the vulnerability of his victim. It should send out a strong message to people who conduct themselves in this way that their behaviour will not go unpunished.
"Qureshi lied throughout the trial. His victim showed tremendous courage in coming forward and I hope she is now able to put this ordeal behind her."