 Club agree three-year deal with KSK Power Ventur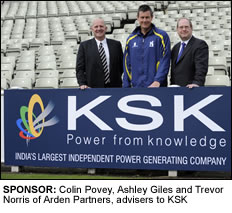 WARWICKSHIRE County Cricket Club has secured sponsorship from a leading Indian company.
The club will wear the logo of KSK Power Ventur plc on the front and collar of the club's Clydesdale Bank 40 over shirt for the next three seasons.
The company is based in Hyderabad and has a strong track record of developing, maintaining and operating power plants.
Warwickshire has enjoyed good links with India over the years attracting quality players from the sub-continent. Currently, the club has a growing number of international and home-grown Asian players in its squad, with current members including Imran Tahir, Varun Chopra, Naqaash Tahir and Ateeq Javid.
Colin Povey, chief executive of Edgbaston Cricket Ground, said: "India is a famous cricket nation and so we are excited to welcome KSK to our team, which we know is as passionate about cricket as we are. Our status as an international sporting venue, helped attract KSK, a major global company and their involvement will only go towards raising our profile overseas."
Mr S. Kishore, executive director of KSK, comments: "Cricket is a national institution in India and loved by all who play and follow it. As WCCC has a fine tradition in the game, I am very pleased with our sponsorship arrangement.
"Plus, with the redevelopment of the ground set to enhance its status both in the UK and globally, the next few years will be an exciting time to be a part of the team. Indeed, this will help to enhance our brand exposure, both in the UK and at home in India."