Last weekend saw history in the making as the Indian Super League club Delhi Dynamos faced off against Premier League club West Bromwich Albion. Despite the Baggies win, 1-0 scored in  the 65th minute, it was a sensational moment for Indians everywhere. Tons upon tons of the Asian community turned out to support the two teams as well as major Asian artists such as Dr Zeus, H Dhami and more showing up to perform.
The Asian Today's Sheena Ramchurn sat down with Dynamos club owner Prashant Agerwal before the match to get his thoughts on the proud moment.
You already have quite a strong link with West Bromwich Albion as the team went to India last year. How did the idea for the charity match come about between you?
It's not just about charity. We're doing some great work in India, we're going ahead and doing a lot on the grassroots. Our ambition is to make India a footballing nation again. I say the word again because India was once upon a time very, very big in football, back in the 40s, 50s and 60s. There were no platforms when I was a kid, I played football but the mentality of Indian families were 'go play cricket' or 'go and become an engineer or a doctor, that's your bread and butter. Football is not going to give you a living.' Now, after the inception of the ISL- the Indian Super League- in 2014 and with the Delhi Dynamos established, we have proved that football can give you a living.
Even though we are a growing economy with 1.3bn people in India, we have a lot of poverty as well, There are kids with the ambition to become the future Ronaldo or Drogba but don't have the basic necessities to go out and buy football shoes or jerseys or socks. When we partnered together with West Bromwich Albion, one of the key elements of our partnership was that we would do something for the underprivileged and poor kids who have the talent as well as the hunger to go out and learn football. We are investing a lot in the grassroots development and the idea was that if we play together in the future, the money we make will never be used for our profits. Whatever funds we are raising from this charity game, we must reinvest into football so that we grow football more and we give every child who has the dream or ambition to become a professional footballer a smile.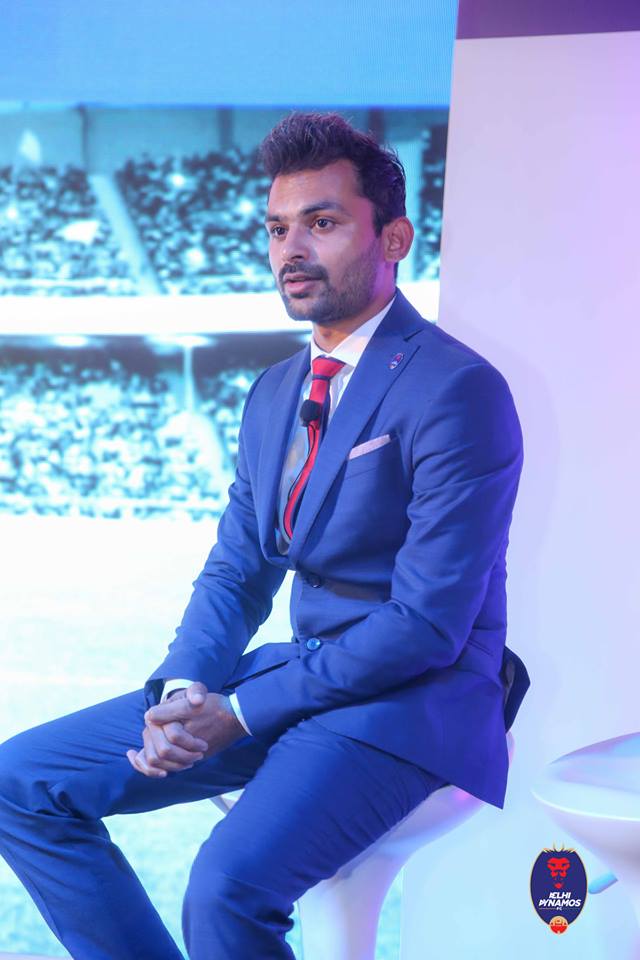 India is known for cricket, do you think it will be quite difficult pitting football against cricket?
We have a big saying in India. My great-grandfather played football, my grandfather played hockey, my father played cricket and me as a son, I am stepping back into my great-grandfather's shoes to play football. We are not scared, we are already giving cricket a run for its money. Just in a period of 3 years we have managed to become the world's biggest league in terms of average stadium attendance. We have an average attendance of over 28,000. The Premier League has a average attendance of 29,700, at world no.2. Our TV numbers, because of the quality and the way we play and package things, we have a TV attendance of over 600 million.
Are you looking forward to the match? Do you think you'll win considering it's the Albion and they've got a lot of top players?
It is the first time ever in history that an Indian club is playing a Premier League club. We know that the Premier League is rated as the best in the world. When people say 'Indian football', as you rightly asked about giving a fight against cricket, we know we're an Indian club but we are nicknamed 'the lions.' The lion is known for its aggressive nature, and no matter how big the target is, we will still go for it. We just want to say that it would be a very historic and prestigious match and that every Asian should feel proud of it no matter what the score is. It will still be our win irrespective of what the score is going to be. Having said that, we will make sure we make every Indian and Asian proud by putting on a great fight.
Birmingham has a very large Asian population, one of the highest in the UK. They're all looking forward to the match, the entire Asian music industry is buzzing about it. You have a lot of people backing you, are you feeling confident?
Absolutely. Look at the likes of Leicester City, they did wonders last year. They went down and thrashed the giants. And we want to take the same example. Every player of ours has lion characteristics and we do have quality as well, both in terms of our Indian players and foreign players. We have some great signings including Florent Malouda, our coach is a world cup winner, the assistant coach is also a world cup winner, we have some players who played for the Ghana national team in the world cup, we have players coming from Real Madrid and also our own Indian players. It's going to be a great combination when we present on the pitch on 3rd September. Don't be surprised if we put on a great show against them.

Do any of your players have future world cup hopes?
We have signed a few youngsters who have a big future ahead of them. Last year we had a player called Richard Gadze, he played for Ghana u-23 and in our team last season. We loaned him out to JK Helsinki in Finland and he went and played in the Europa League this year. He's just 21 and he can definitely play for the Ghana international team. We're making one more signing today, a 26 year old, and he's already been playing for the Ghana national team. We have one more player coming from Senegal, he's also just 20 years old. These are some of the youngsters who have a future in terms of the world cup. We have two world cup winners in our squad in the form of Gianluca Zambrotta and Simone Barone. Both won in the world cup for Italy in 2006 and we have world cup finalist Florent Malouda who played for France.
What's the future of the club after the match?

We play on 3rd Sep and then we have an extended pre-season. We are going to Sweden where we're playing in BK Hacken, the top most division. After that we head to India on the 15th September and we continue our training. The next competition starts 1st October.
Riding on the wave of the Olympics, there's been a lot of passion for sport all across the globe. Are you doing anything to keep that fire up?
Football is a language we speak, for us there is no other language. We are doing a lot on the grassroots and India is hosting next year's FIFA world cup u-17. We want our academy lads to go and play for India in the u-17 and maybe win the u-17 cup for us.
What does the grassroots work look like?
We have our own soccer schools, there are more than 20 soccer schools in Delhi built in just 3 years. We have one residential already active. There is one more residential coming up next year for which we have the second home stadium with a capacity of 35,000, a residential set up for 400 kids with 14 football training pitches. That's the future. We have partnered with Air India and the Subroto Cup which is India's oldest grassroots football tournament and the world's biggest grassroots football tournament as there are 40,000 teams which participate every year in this youth tournament for under 17s and 14s.
This is Delhi Dynamos first time in Birmingham, are they enjoying the city?
We love the city. We feel at home here, even though it's a little different, we still feel at home.