 Mother's relief as 'cold-blooded' duo are jailed for son's murder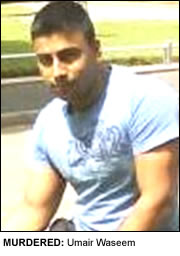 THE MOTHER of a Bolton student who was brutally murdered has expressed her relief after two men were jailed today for the killing.
Umair Waseem, 22, was found dead at a Lancashire beauty spot in February 2009.
The engineering student, who lived with his mother, sister and brother, was beaten to death with a heavy blunt object.
A post mortem examination revealed he had suffered extreme head trauma.
Faisal Aslam, 25, and Asim Khan, 27, were today jailed for life at Manchester Crown Court Crown Square for Umair's brutal murder.
Both men were told they would serve a minimum of 30 years.
Another man, Aroon Asad, 22, was acquitted of murder.
Today Umair's mother, Foozya, paid tribute to her son as her son's killers began their life sentences.
"We are so relieved to hear the outcome of the trial for the murder of my son," she said in a statement.
"We miss him so much and the loss of his life in such a tragic and horrific way has left a big hole in our lives, which is impossible to fill.

"The grief and pain that we have gone though is indescribable but we find some solace in the fact that the culprits have been brought to justice."

She added: "Umair is greatly missed because he was not only my dear son but because he was a wonderful person with a heart of gold. He was loving to all those who were around him. He was kind, respectful and he had a good future ahead of him.

"He didn't deserve to die in this horrific and terrible manner. He is always in my prayers and may God rest his soul in peace."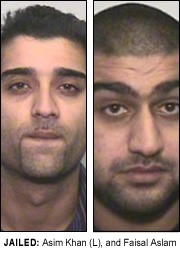 Detectives were unable to establish a motive behind Umair's death but said there was "evidence he had been dealing drugs."
They revealed killer Asim Khan brokered a deal to pay Umair £7,000 to withdraw a complaint he made to police after being attacked in Bolton in the months before his murder.
Umair withdrew the complaint, but never received money.

On the day of his murder Umair hired a Vauxhall Vectra and was lured to a beauty spot in Anglezarke, near Chorley where he was brutally murdered.
His ankles and wrists were bound and he was wearing two layers of clothes and disposable gloves.
Traces of Umair's blood were found in the hired Vectra which was found abandoned in Crumpsall, Manchester.
Following the verdict Detective Inspector Sam Pickering, deputy senior investigating officer said: "The circumstances of Umair's death are extremely unusual and he had been the victim of a brutal attack.

"We will never know whether Umair went to that remote spot voluntarily or against his will. We do know he was unable to defend himself against his killers' blows because his arms were tied behind his back and his legs were bound with tape.

"The only people who know why Umair was killed are now, thankfully, behind bars for a very long time.
"One thing is clear – Umair's untimely death was needless and it has left his family devastated."