 Superstar takes to Twitter to back team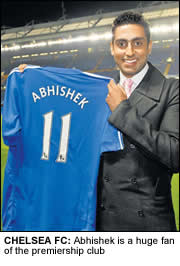 DIE-HARD footie fan Abhishek Bachchan is backing his beloved Chelsea in tonight's crunch Champions League match against Italian champions Inter Milan.
The Italians hold a slender 2-1 advantage going into the second-leg at Stamford Bridge in a tense tie which sees the return of former boss Jose Mourinho to west London.
It's a game that has all Chelsea fans on tenterhooks – and that includes Abhi.
The Bollywood star has been twittering all day ahead of the match.
"Big night tonight. Inter come to the bridge," he wrote on Twitter earlier today. "Chelsea have to win this one. Going to be a tough match. Jose back at the bridge – should be fun."
Hours after posting that message he was back on the site.
He wrote: "Inter outplayed Chelsea in the last game. Their defence shut down Chelsea's attack. 3rd goalkeeper. Jose knows Chelsea too well – something to worry about! Tonight should make good viewing. Come on Chelsea!!"
You think the Bollywood actor would have stopped there. But no, just two hours after posting his second message he was back on the site.
"Jose is a great manager and has a great record at the Bridge," he wrote. "But things might just change tonight. Will have to wait and watch."
A fan of the club since 2003, Abhi flies into the London to watch the team play when he can.
The last Champions League match he watched at the Bridge was last season's controversial semi-final loss to Barcelona.
Maybe its best then that he watches tonight's game from the comfort of his home in Mumbai…we're sure he wouldn't want to be a bad omen!