 Family in Oldham wait for return of five-year-old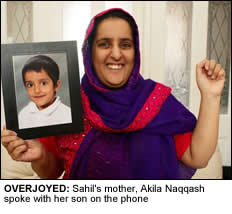 BRITISH Consul officials looking after Sahil Saeed have revealed he is in "good spirits" as he recovers from his kidnapping ordeal.
The five-year-old was found in Pakistan today nearly two weeks after he was snatched at gunpoint from his grandmother's home in Jhelum, Punjab on 3 March.
The youngster was in Pakistan with his father and due to fly back to his home in Oldham just hours before he was taken.
His mother, Akila Naqqash, said she was "ecstatic" at news of his release and is anxiously waiting for Sahil to return home.
British High Commissioner to Pakistan Adam Thomson said it was "top priority" for the High Commission to "ensure he is reunited with his parents as soon as possible."
"Although a little tired, Sahil has been in good spirits. He has also spoken to his mum and dad on the telephone this morning," Mr Thompson said.
"The top priority for the High Commission now is to ensure he is reunited with his parents as soon as possible and to help with his return to the UK. Sahil is in the care of the Pakistani authorities and his uncle."
In Oldham, Sahil's family rejoiced as news of his release filtered through.
Speaking to the BBC his mother Akila said she doubted news of her son's release after similar reports last week turned out to be false.
"At first we thought it wasn't true because we've had a couple of false reports that he had been found last week but we've had numerous phone calls to say he had been found and news reports on the television confirming the news," she said.
Close to tears she said she was "gobsmacked" when she heard Sahil's voice on the phone.
"He's been held for 13 days and the way he spoke to me was like nothing happened – he was normal," she said. "He was going on and on and on about his toys. He was telling us he was missing his sisters, that he can't wait to come back and he was really really happy."
Dave Thompson, Greater Manchester Police assistant chief constable, said the boy was released in Kharian City, Punjab, this morning.
"He was released nearby to a school, alone, wandered into a local field and was found by some local residents who looked after him until such time his family found him with the police," he said.
Mr Thompson added: "This remains a fast-moving international inquiry. It is led in Pakistan but over the last 12 days there has been considerable support delivered by the Greater Manchester Police to support the safe return of this young boy.
"This still remains a very active criminal investigation and Greater Manchester Police and the Pakistani authorities are still determined to bring people to justice and that will be a high priority in the coming hours, days and weeks."